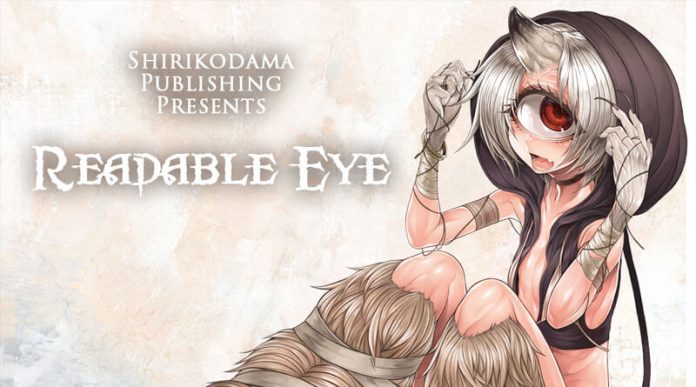 High Quality Printing and New Artwork
PORTLAND, OR – July 9, 2017 – Shirikodama Publishing is excited to announce a new Kickstarter to release an anthology of monstergirl doujinshi by Geosiphon called "The Readable Eye Anthology". This book will contain three individual works by artist morisugi featuring different stories about mono-eye girls. The goal with this project is threefold: Directly support morisugi as an artist, deliver an extremely high quality printed product to the backers and raise enough to license more works in the near future.
The most exciting facet of the campaign is the ongoing stretch goal, paying morisugi more. After unlocking some better printing options, $1,000 of every $5,000 raised goes directly into the artist's pocket. Artists put their time, money and soul into their work, and it's important to make sure that they are rewarded for that.
Quality, from translation to printing, is one of the defining aspects of Shirikodama. Having worked on over 30 books and thousands of pages of ero-manga, the staff at Shirikodama knows how to work with artists, translators, editors, and printers to bring you a final printed product that exceeds your expectations.
The final goal with this campaign is to be able to start a publishing company focused on delivering high quality physical and digital works from Japan. Shirikodama's credo is: "If it's on a table at Comiket, we want to bring it to an English speaking audience." As stated by Co-founders Mike Ingraham and Harry Readinger, "With this project we are not simply publishing the work in English, but working with the artist to create a unique piece for the non-Japanese audience. The artist will not only be creating new cover pages, but is also working on revising the first volume." morisugi's changes will only appear in the English release.
Shirikodama Publishing hopes this announcement will inform interested individuals that there is an authentic opportunity to support Japanese artists and help release a high quality doujin anthology. Backers of the campaign can get: Original custom artwork from morisugi (limited to 5), physical copies (numbered available), exclusive t-shirt, postcard set featuring the cover artwork, a digital PDF, and even a guided trip to Tokyo (limited to only two; added as a reward today, 7/19)!
UPDATE 7/22: With only three days left of the kickstarter, new rewards have been added!
25 more custom drawings have been added for a total of 30!
There will now be a limited number of signed copies, so make sure to get them while available.
The $100 tier will now get you a signed copy, in addition to being numbered and getting your name in the credits!
The artist for "The Readable Eye Anthology" has agreed to do a meet n greet/dinner with the two backers who claim the guided Japan trip.
ABOUT SHIRIKODAMA PUBLISHING: A new publishing company initially focusing on doujinshi and ero-manga. Shirikodama is dedicated to bringing you works from artists you know and love, as well as ones you may not have heard of, all while supporting the artists they work with.
Shirikodama Publishing
VISIT THEIR KICKSTARTER HERE.
COMPANY SITE: shirikodama.moe
TWITTER: @ShirikodamaLLC