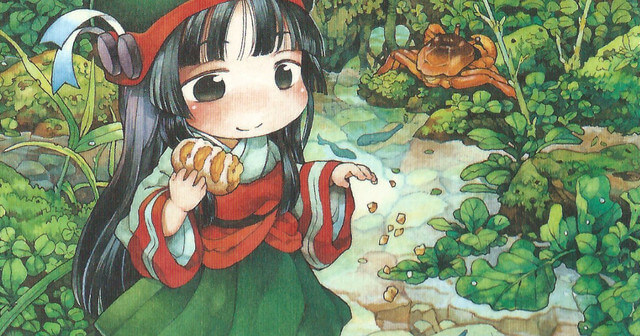 Yen Press announced at their Sakura-Con panel Saturday that they have licensed the following four new manga series and a new light novel series:
Hakumei and Mikochi
Chio-chan no Tsuugakuro
Interspecies Reviewers
Choujin Koukousei-tachi wa Isekai domo Yoyuu de Ikinuku you desu!
Tsujou Kougeki ga Zentai Kougeki de 2-kai Kougeki no Okaasan wa Suki desu ka? (Novels)
Yen Press describes Hakumei and Mikochi:
Kashiki. Deep within a lush, green forest live Hakumei and Mikochi. Making their home in trees, using leaves for umbrellas, and riding bugs for transportation are just part of daily life for these tiny spirit pals! 
The series is published in Kadokawa's Harta magazine, and by Kadokawa in compiled books. Volume 6 just recently released in January. Hakumei and Mikochi also received an anime adaptation that premiered in January.
Yen Press describes Chio-chan no Tsuugakuro:
For Chio Miyamo, just making it to school is a miracle! Whether it's construction sites, biker gangs, or the sudden call of nature, obstacles great and small stand in the path of our titular hero! 
The manga began its serialization in 2014 in Kadokawa's Monthly Comic Flapper magazine. It recently published it's eighth compiled volume on March 23rd. Additionally, the series won the "Flapper Award" at the ninth MF Comics Awards.
Chio-chan no Tsuugakuro will receive an anime adaptation this July.
Yen Press describes Interspecies Reviewers:
Beauty truly is in the eye of the beholder! From elves to succubi to cyclopes and more, the Interspecies Reviewers rate the red-light delights of all manner of monster girls…the only thing is, they can never agree on which species is the hottest!
The manga ran as a one-shot in Kadokawa's Monthly Dragon Age in 2016, and Kadokawa released one volume last September. The manga won the DLsite Award in Da Vinci Magazine and NicoNico's Tsugi ni Kuru Manga Awards.
Yen Press describes Choujin Koukousei-tachi wa Isekai domo Yoyuu de Ikinuku you desu!:
Seven extraordinary high school students caught in an airplane accident wake up in a medieval fantasy world where magic and beast-men exist. But they don't panic—instead, they build a nuclear plant in a world without electricity, control the economy of a large city, and declare war on the evil nobles!
Volume one is planned for an October release in the West. The series adapts Riku Misora's original novels by the same title. The first novel was published in October 2015, and SB Creative just released the sixth volume last December. The manga adaptation is currently serialized in Square Enix's Young Gangan Magazine.
Yen Press describes Tsujou Kougeki ga Zentai Kougeki de 2-kai Kougeki no Okaasan wa Suki desu ka?:
Masato thought he was part of a random survey, but when he gets involved in a secret government scheme, he winds up trapped in the game world. Even more surprising—his mother's there, too!
The first volume is planned for a Winter release in the West. The series debuted in January 2017 and has sold more than 100,000 copies to date. Volume 3 is the most recent release. A manga adaptation began serialization in Kadokawa's Young Ace Up last October.