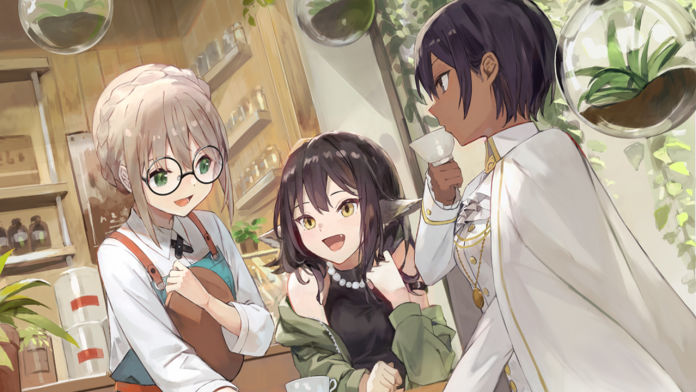 On June 27th, Studio Élan announced the launch of their newest yuri visual novel project, Please Be Happy. Published by Sekai Project, Please Be Happy will be available on PC and the Nintendo Switch. As of right now, the price and release date haven't been announced.
Please Be Happy features
Two heroine routes, with 2 happy endings each
A gorgeous original soundtrack by Sarah "Esselfortium" Mancuso
Character designs and CG's by Kobuta, with additional art by minute and adirosa
Accessibility options for vision and hearing impairment
Please Be Happy synopsis
Born as a fox in the forest of Korea, Miho carries with her the memory of a traveler who showed her kindness and spoke of home. Now more human than fox, Miho has spent a long, long time searching for her person. She arrives by airship to Wellington Skyport, one of the jewels of the floating island of New Zealand.
Despite her years spent observing humans, she still has a lot to learn about their culture and society. She's made a living so far as a thief, her heightened senses allowing her to easily take advantage of people. She's also seen a lot of the worst of what mankind has to offer.
It's only after meeting Juliet, the owner of a small library, and Aspen, an aspiring novelist, that Miho starts to understand what kindness is, and that there's more than just the bad stuff when it comes to people.
About Studio Élan
Studio Élan is a visual novel development group focusing on lesbian-themed games, with members from all around the world. Élan was created with a specific vision of telling yuri love stories combined with magic and fantasy. We want our stories to be vivid and colorful, though maybe not always so happy. We want our readers to be thinking about our games and characters for days and weeks after finishing them. Other titles include ​Heart of the Woods​ (2019), ​Highway Blossoms​ (2016) and the upcoming games ​Lock and Key​ and ​Summer at the Edge of the Universe.