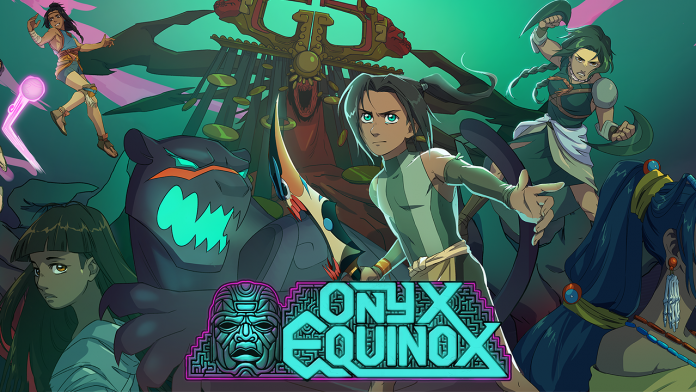 Crunchyroll announced on Friday that the upcoming Crunchyroll Original series Onyx Equinox will premiere Saturday, November 21st. The series will be dubbed in Spanish, Brazilian Portuguese, French, and German at launch.
Crunchyroll announces Onyx Equinox cast & premiere
To celebrate this announcement, Crunchyroll also premiered a brand new trailer to invite fans into the world of Onyx Equinox and introduce the main characters.
Crunchyroll also announced the English voice cast for Onyx Equinox, which includes a mix of Latinx and up and coming voice talent.
Izel (Olivia Brown): Humanity's reluctant hero. Tasked with closing the five gates of the underworld.
Nelli (Sofia Alexander): Izel's sister and greatest source of motivation.
Yaotl (Alejandro Vargas-Lugo): The jaguar-like emissary of Tezcatlipoca who accompanies Izel.
Zyanya (Carolina Ravassa): A warrior with a powerful ability, seeks to restore her destroyed city.
Yun (Patrick Pedrazza): K'in's more individualistic twin. The emotional core of Izel's group.
K'in (Juan Arturo Maldonado): Yun's mischievous, risk-taking twin who often takes jokes too far.
Xanastaku (Kimberly Woods): A priestess in Izel's party. Desires to redeem her dark past.
K'i'ik (Sofia Alexander): Izel's weapon that grows by consuming blood.
Meque (Sofia Alexander): A type of axolotl with mysterious, magical power.
Tezcatlipoca (Arin Hanson)
Mictlantecuhtli (Castulo Guerra)
Quetzalcoatl (Zeus Mendoza)
The Healer (Fayna Sanchez)
Onyx Equinox follows a young Aztec boy named Izel who is saved from death by the gods and is chosen to act as 'humanity's champion,' forced to discard his apathy toward his fellow man and prove humanity's potential on a journey that will take him across ancient Mesoamerica.
Virtual Crunchyroll Expo Panels
Onyx Equinox is one of many Crunchyroll Original series that have launched so far this year. The show was created by executive producer and showrunner Sofia Alexander.
Fans can learn even more about Onyx Equinox this weekend at Virtual Crunchyroll Expo through these panel discussions with the creator and staff:
Friday, 9/4 at 12 PM PT – Crunchyroll Originals Presents: Making of Onyx Equinox – Panel with Sofia Alexander (creator / showrunner), Kuni Tomita (supervising director), and Marisa Balkus (producer)
Saturday, 9/5 at 12:45 PM PT – Crunchyroll Originals Presents: Mesoamerica Animated: Onyx Equinox with Sofia E. Alexander – Panel presented in Spanish with English subtitles with Sofia Alexander (creator / showrunner), alongside Crunchyroll hosts Dulce Benavides and Ismael (Ryu) Orozoco
Sunday. 9/6 at 2:45 PM PT – Mesoamerican Gods: Mythology in Onyx Equinox with Sofia Alexander (creator / showrunner) and Anthropologist Dr. Kirby Elizabeth Farah
---
Want more news on the latest anime? Follow us on Twitter or come talk to us on Discord!