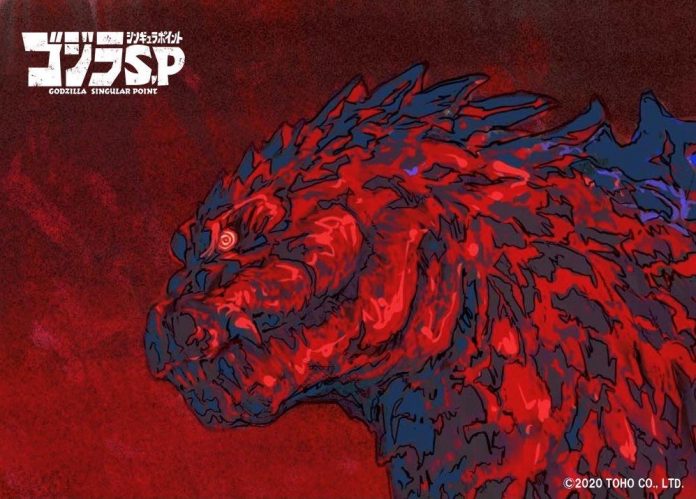 Netflix announced on their Twitter that their new Godzilla anime will debut outside of Japan this summer. The new series titled Godzilla Singular Point releases worldwide on June 24, 2021.
The streaming platform already had the exclusive rights to distribute the anime in Japan, which it released for streaming on March 25th. Godzilla Singular Point also had a later release on various Japanese TV channels, including Tokyo MX, KBS Kyoto, BS11, and Sun TV on April 1st. The anime also had an exclusive premiere simulcast before individual episodes premiered on TV.
The story of the new anime is described by Netflix as follows:
Brought together by a mysterious song, a grad student and an engineer lead the fight against an unimaginable force that may spell doom for the world.
The anime will be 13 episodes long. It originally aired in Japan weekly, but the worldwide release will have all episodes available on release day.
Atsushi Takahashi joins the series as a director (Blue Exorcist movie, Doraemon the Movie 2017: Nobita's Great Adventure in the Antarctic Kachi Kochi, Rideback). The anime was produced in partnership by studios BONES and Orange, which are collaborating to combine "hand-drawn and CG animation styles."
Japanese science-fiction novelist Toh Enjoe (The Empire of Corpses) is in charge of script writing, and it's his first made-for-television project. Kazue Katō (Blue Exorcist) is in charge of original character designs. Eiji Yamamori (Princess Mononoke, Spirited Away, The Wind Rises) is designing the series' Kaiju monsters. Satoshi Ishino (Date A Live, Excel Saga, No. 6) is adapting the original character designs for animation. Kan Sawada (Doraemon films, Yowamushi Pedal) is composing the music. Ryuichi Ikeuchi, Yuushi Koshida, and Masashi Suzuki make up the team directing the series' CG. Lastly, Kensuke Yamamoto is directing the series' visual effects.
Furthermore, the idol group BiSH is performing an original opening theme song for the anime titled "in case…," and prolific band Polkadot Stingray is performing the anime's ending, "Aoi".
---
Are you excited for this new anime? Let us know in the comments below or on Twitter!