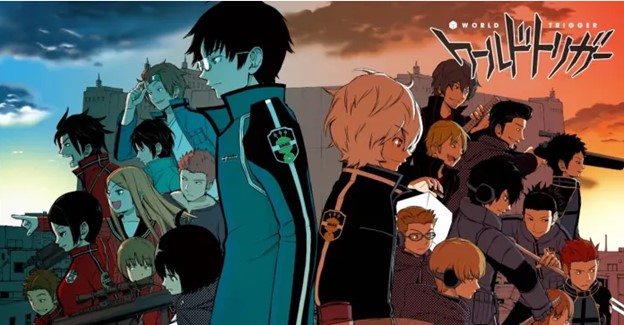 Unfortunate news came out recently about a volcano eruption in Tonga. It was a stressful event that also affected the anime world. One such anime that was affected was World Trigger. The official Twitter account for the ongoing series announced that the 14th episode of the third season had to be pushed back to Sunday, January 23rd at 1:30 am Japanese time. This was the third season's finale episode.
The episode was meant to have aired the Sunday prior at 1:30 a.m, just before the announcement of the delay was published online. The episode was meant to air on TV Asahi and its affiliates, but the stations preempted their programming due to special news bulletins. The anime's Twitter account confirmed the delay 23 minutes later.
The delay was caused by a tsunami hitting Japan's east coast that day. Waves as high as 1.1 meters were recorded in the Iwate prefecture. The tsunami was of course caused by an underwater volcano eruption in the South Pacific island nation of Tonga, which erupted on Saturday at about 5:00 p.m. In response, the Japan Meteorological Agency issued a tsunami warning for the Amami Islands and the Tokara Islands in the southwestern prefecture of Kagoshima. The agency then expanded its announcement and issued an advisory warning for almost all of Japan's east coast. It specifically warned of waves as high as three meters (equivalent to 10 feet).
TV Asahi's NUMAnimation programming block had already scheduled the Salaryman's Club anime to premiere in World Trigger 3rd Season's timeslot the following week. The Salaryman's Club anime's website announced on Sunday that the anime's premiere also needed to be delayed and that it would release on Saturday, January 29th at 25:30 (effectively, Sunday, January 30th at 1:30 a.m.)
The eruption was also noted by various nations around the pacific rim. New Zealand, Australia, the United States, Canada, and other small island nations issued advisories and warnings for tsunami waves. The damage to Japan specifically was minimal, lifting its tsunami advisories nationwide as of that Sunday afternoon.
The third World Trigger season premiered on October 9th on TV Asahi's NUMAnimation programming block and is airing on Sundays at 1:30 a.m. Crunchyroll is streaming the new season as it airs in Japan.
---
What do you think about these recent events? Let us know in the comments below or on Twitter.