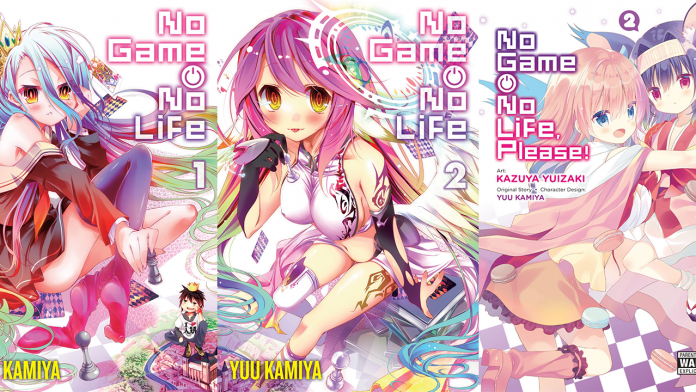 On July 14th, Yen Press confirmed that Amazon has removed their No Game No Life titles from the platform. The unfortunate news comes from Twitter as Yen Press confirmed what users have noticed.
Yen Press titles removed on Amazon
Both physical and digital versions of the No Game No Life light novels seem to be affected. The only surviving Yen Press release of the series on Amazon is volume 1 of the spin-off series No Game No Life, Please! There's also the original series' manga volume 2 published by Seven Seas Entertainment. UPDATE: Volume 2 of the manga has now been removed.
For some time, users looking up No Game No Life saw the titles delisted on Amazon (except for the Japanese versions).
Meanwhile, the controversial series Interspecies Reviewers is still available for purchase on the platform in manga form. And that series caused Funimation to cancel their anime dub and distribution of the series. Which begs the question of what reasons Amazon is using to judge manga and light novel titles now. Though in fairness, from what I understand the manga is more tame than the anime.
J-Novel Club also hit by Amazon
This question only grows when you learn this isn't the first of light novels being removed from Amazon. On July 13th, J-Novel Club confirmed that some of their digital titles were removed as well. Among their affected titles is the popular How Not to Summon a Demon Lord.
With J-Novel Club, they expanded on the issue saying that they were never notified by Amazon about this. They only learned Amazon removed their titles after receiving complaints from fans. After calling Amazon, they verified that the Kindle Content Review team removed the titles but Amazon "couldn't say why".
J-Novel Club updated their announcement on July 14th with more new titles removed. The newest confirmed removals were Grimgar of Fantasy and Ash volume 1, and Infinite Stratos volume 3. This goes to show that the recent crusade against light novel and manga content is still actively happening. They also noted that Grimgar was "one of the very first ebooks we published more than 3.5 years ago".
As of right now, if you've purchased digital titles on Amazon before their delisting, you still have access to them and can redownload them. But J-Novel Club recommends backing up their titles in some form if allowed by your region.
We reached out to Yen Press to ask if Amazon clarified the reason for removing their titles, but haven't heard back yet. Though most likely Amazon hasn't disclosed the exact reason, similar to J-Novel Club.
All titles affected by this recent wave of Amazon removal are still available on other platforms like Bookwalker.