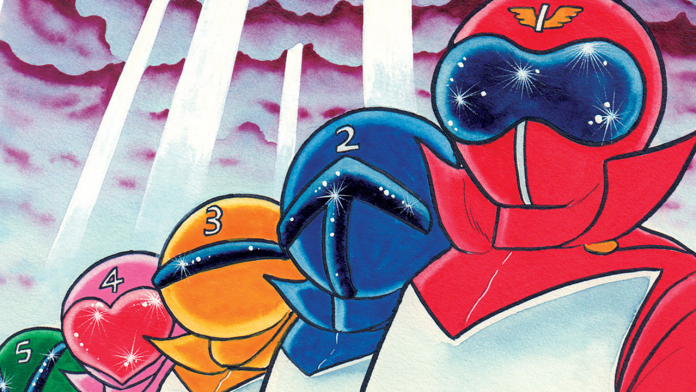 On November 2, 2020, Seven Seas Entertainment announced their license acquisition of the SUPER SENTAI: Himitsu Sentai Gorenger manga by Shotaro Ishinomori, the original manga that helped inspire decades of Super Sentai adventures and later gave rise to the Power Rangers–in English for the first time ever!
Seven Seas powers up with Shotaro Ishinomori's SUPER SENTAI: Himitsu Sentai Gorenger
An evil secret society called the Black Cross Army threatens world peace, and only an elite task force known as the Earth Guard League (EAGLE) can stop them. After the Black Cross Army destroys EAGLE's headquarters across Japan, only five young recruits survive. Hiding in a secret underground base, they are given enhanced battlesuits that empower them with superhuman abilities, transforming the youths into an unstoppable squad to combat evil.

SUPER SENTAI: Himitsu Sentai Gorenger Synopsis (Seven Seas)
Tied to the first Japanese Super Sentai tokusatsu TV series ever made, this genre-defining work laid the groundwork for decades of such adventures, including the wildly popular Power Rangers franchise in North America. Read Shotaro Ishinomori's original manga adaptation of Himitsu Sentai Gorenger in this beautiful hardcover collection, which includes an exclusive bonus: a 30-page overview of the franchise's origins by tokusatsu historian August Ragone.
Seven Seas will publish SUPER SENTAI: Himitsu Sentai Gorenger for the first time in North America in print (and on digital platforms) as a single large-trim hardcover. The book will be released in April 2021 for $24.99 USA / $31.99 CAN.
About Seven Seas Entertainment
Established in 2004, Seven Seas Entertainment specializes in bringing the best of Japanese manga and light novels to North American audiences, and producing original comics, graphic novels, and youth literature. For more information, visit their website.