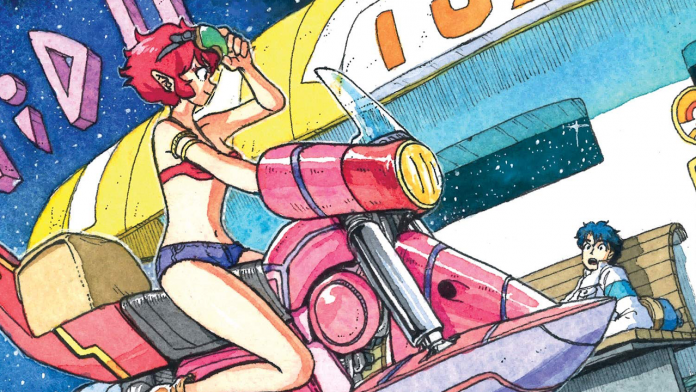 Sazan lived a simple life on Earth doing off-planet construction, landscaping, and maintenance jobs. Then one day he catches a ride from the eccentric "Comet Girl", Mina, on her space scooter. She's a vibrant bounty hunter flying across all different parts of space. Her life seems full of fun adventures, especially when they encounter the quirky Picnic Pirates and their pig leader, Captain Kidd, but she's grown a dark understanding that she doesn't belong anywhere. And so begins the story of Sazan & Comet Girl.
Sazan aims to change this after he quickly falls for her. He asks her on a date, and at first she's ecstatic, but it's short-lived when she's chased yet again. She's constantly on the run from those that want to exploit her endless power. After she leaves him, Sazan embarks on his own journey across the galaxy to reconnect with her.
Despite the extremely retro art style, this manga is actually from 2018. Yuriko Akase's homage to older science fiction adventures is a traditional trip among the stars. In this full-color omnibus release, the coloring and shifting hues of panels add a lot to building up the 80s visual style.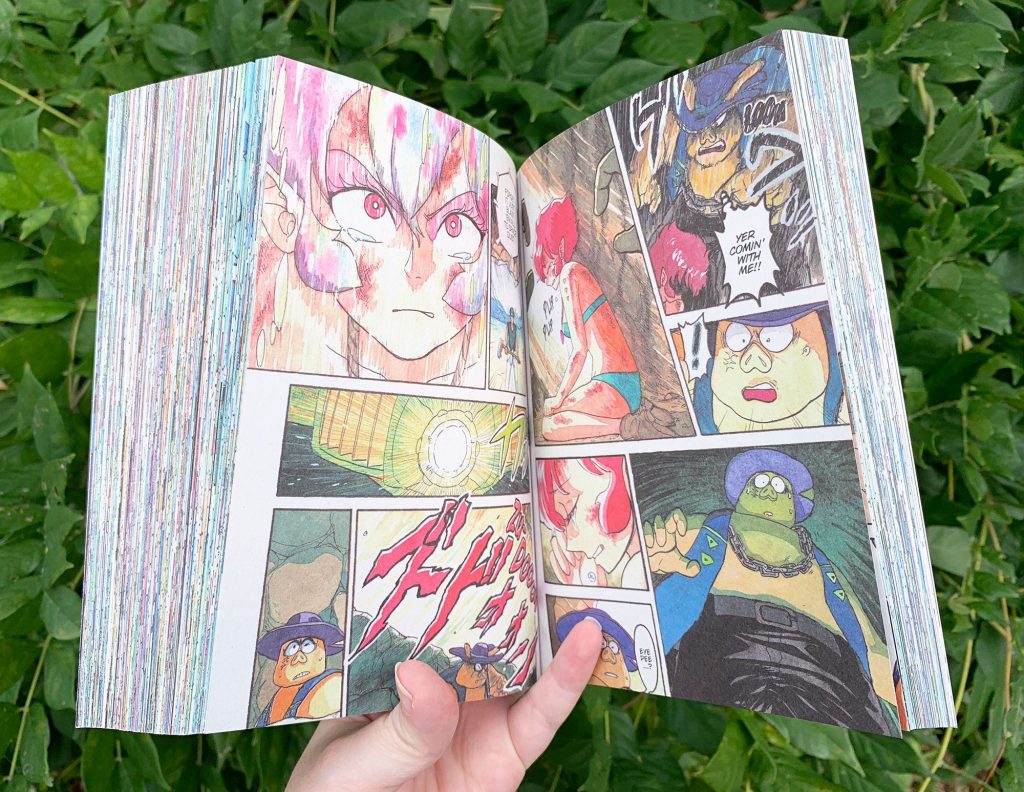 Mina herself is designed as an attractive traveler who doubles as an energetic fireball. Her changing appearance is reminiscent of her emotional states. She's a magical space girl born from the raw power of a comet, and with that concept there's a lot of ways to play around with her panels.
Sazan & Comet Girl can be formulaic, but the retro sci-fi aesthetic feels good
While our protagonist Sazan may not be particularly interesting, he's dependable, kind, and persistent. The kind of guy that's a vehicle for the plot to develop more interesting side characters. Like the pig pirate, Captain Kidd, and how his crew goes from laughing stock to respectable outlaws. Or the late antagonist of the story, Arguda, an emotionless, artificially intelligent android developed to improve humanity but whose ideas became too radical to accept.
Sazan & Comet Girl can be slow with its pacing, and the plot's most interesting elements are towards the last third of the manga. The story and characters themselves are pretty formulaic, but the vibrant colors of this release and retro art aesthetic can be worthwhile. If you're a fan of older sci-fi space adventure stories, you might enjoy this manga.
Check out Sazan & Comet Girl, available now.
---
Title: Sazan & Comet Girl
Publisher: Seven Seas Entertainment
Release Date: August 25th, 2018
Genre(s): Action, Full-Color, Science Fiction
Type: Manga (Omnibus)
Author: Yuriko Akase
Translation: Adrienne Beck
Lettering: Karis Page, Gwen Silver