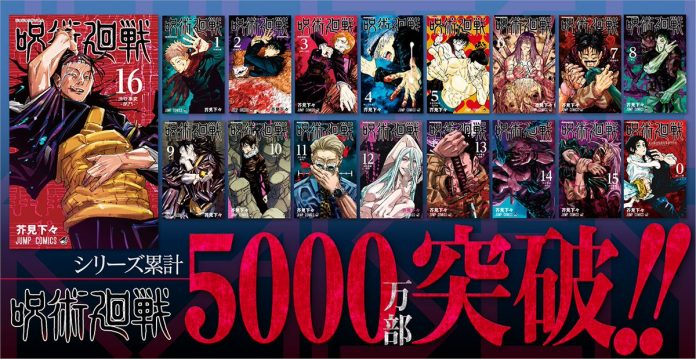 It's safe to say that Jujutsu Kaisen has become a popular manga since its initial debut in Weekly Shonen Jump back in 2018. This has further been solidified by the Jujutsu Kaisen official Twitter account sharing a massive publishing milestone.
Jujustu Kaisen will hit 50 million volumes of copies that have been printed and sold as of the publication of the 16th volume on June 4, 2021. Here, "printed" refers to physical copies of the manga, while "sold" refers to digital copies. 
According to Crunchyroll's tracking of Jujutsu Kaisen's publishing, 45 million copies were printed and sold as of April 21, 2021. From that date to June 2, 2021, 5 million more copies were sold. 
The 16th volume of the manga series will also see a record number of first-print-run copies at 2 million. The 15th volume saw 1.5 million copies printed during its first run back in February, setting Jujutsu Kaisen's first print record of more than 1 million copies.
Viz Media, the manga's English publisher, describes the first volume of Jujutsu Kaisen as follows: 
"Although Yuji Itadori looks like your average teenager, his immense physical strength is something to behold! Every sports club wants him to join, but Itadori would rather hang out with the school outcasts in the Occult Research Club. One day, the club manages to get their hands on a sealed cursed object. Little do they know the terror they'll unleash when they break the seal…"
---
Have you been keeping up with the supernatural story of Jujutsu Kaisen? Let us know your thoughts on this milestone in the comments below or on Twitter.