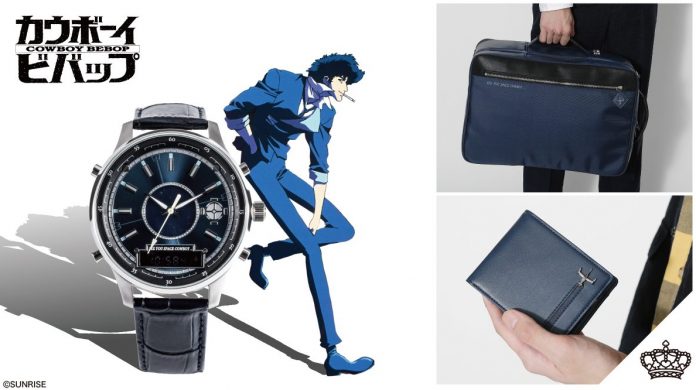 SuperGroupies, a fashion brand offering products inspired by anime and games, announced their new collaboration items for Cowboy Bebop.
The "Cowboy Bebop Collaboration Collection" lineup includes a watch, backpack, and wallet. All items are inspired by the anime series main character, Spike Spiegel.
Also if you haven't seen the anime series yet, head over to Funimation now.
Cowboy Bebop Collaboration Collection from SuperGroupies
All items are available for pre-order from July 12 until August 1 at 8:00 PM, 2021 (Pacific Time). The collaboration merch will release in mid-April 2022. Read about each product below.
Note: delivery times and price information are for the US/CAN only, and differ for products sold from the SuperGroupies Japan store. Visit their Japanese website for overseas purchases outside of the US/CAN.
Spike Spiegel Model Watch
This multifunctional watch with real leather strap is inspired by Spike Spiegel. In the center is a glimpse out at the vastness of space. Running across the bottom is a digital time display with backlight. The case back features etchings of the Cowboy Bebop logo as well as Spike's silhouette. A rose to represent Julia is etched into the crown. Available for $218 before taxes.
Spike Spiegel Model Backpack
Our 2-way business backpack suits all the kinds of "business" a bounty hunter can get up to. The Swordfish II decorates the zipper pull, flying a straight line along the left-side zipper. Next to the zipper is the famous line, "SEE YOU SPACE COWBOY…" Inside is an original SuperGroupies lining design inspired by scenes from the timeless opening song, "Tank!" Available for $158 before taxes.
Spike Spiegel Model Wallet
Our Spike-inspired bifold wallet takes inspiration from the beloved Swordfish II, flying its way across the universe. Made with real leather, the wallet's color scheme is inspired by Spike's clothing, with a strip of vibrant yellow on the inside. Available for $18 before taxes.