Within fandom spaces, fan-created magazines (most commonly called "zines"), are unique projects. Writers, artists, and other creators within a fandom work together to create zines that are chock-full of art, fan fiction, and other unique creations. Zines typically feature a specific theme such as an anime, a character, or sometimes an entire genre of manga.
Zines are organized by moderator teams who handle the organization and production of zines. Moderators (mods) handle all the details like creating a budget, communicating with the zine contributors, and promoting the zine.
Zines serve as collaborative projects for fan creators that are passionate. That is clear to see in the moderator team for Let's Magical Cooking~!, a "magical girl" cookbook-style zine created by fans. The conversation I had with them covered zine creation, social media use, and what inspired their magical girl-focused zine.
Interview with the Mod Team for the Let's Magical Cooking~! Zine
Q: So, a magical girl-themed zine with a cookbook style is something I haven't seen before in the zine space! What was the initial inspiration behind Let's Magical Cooking~!? And what led you to decide to take a cookbook-style approach to it?
A: Naturally, some of the first things that come to mind for magical girls are their heroic moves, dire missions, and desires to protect those they care about. But what do they do on their off-days? When we first began brainstorming the project, we wanted the zine to focus on their "slice of life" days. No fighting, no world needing to be saved, no deciding between two love interests. Just friends spending the day together.
Then, we got to thinking that food is such a major part of people's day-to-day lives that it would make sense that some of the characters would like to test out recipes on their days off. What would they make? How would it taste? Naturally, that's only something that could be answered in a cookbook!
A cookbook zine was the mix of two perfect worlds: adorable characters and delicious food! While it was an ambitious thought, our team hasn't looked back for a second!
Q: What would you say are some of the biggest driving factors for the team behind the zine?
A: If we are being completely honest, we love all things magical girls. The history of how the genre started and how it's developed in modern times, such as all those adorable mascots, and the themes of friendship–there are so many things to enjoy about magical girls! Our shared passion for these franchises continues to motivate us forward each day as we continue along the project's journey!
Now that we've had time to really get to know our talented contributors (page artists, merch artists, food artists, writers, and chefs), everyone on the moderator team is truly blown away by their unique interests and drives. Even under the umbrella of magical girls, every single one of us has our own personal favorites!
Q: The overall process of putting together and working on a zine can take quite a bit of time. How did you go about determining the general schedule for the zine process?
A: A good point of reference was resources compiled from other zine moderators over the years. It truly helped us realize the scope our project would have! Having to plan time for applications, the application review process, the creation period, pre-ordering, and so on is important to ensure the project stays on track to get done.
We wanted to plan for everyone to have enough time to complete work during the project without being overwhelmed. We would say that, in our experience, zines can take anywhere from 7-12 months. That number varies based on the scope and scale of your given fandom and/or theme. And things like the complexity of your zine, and other such details.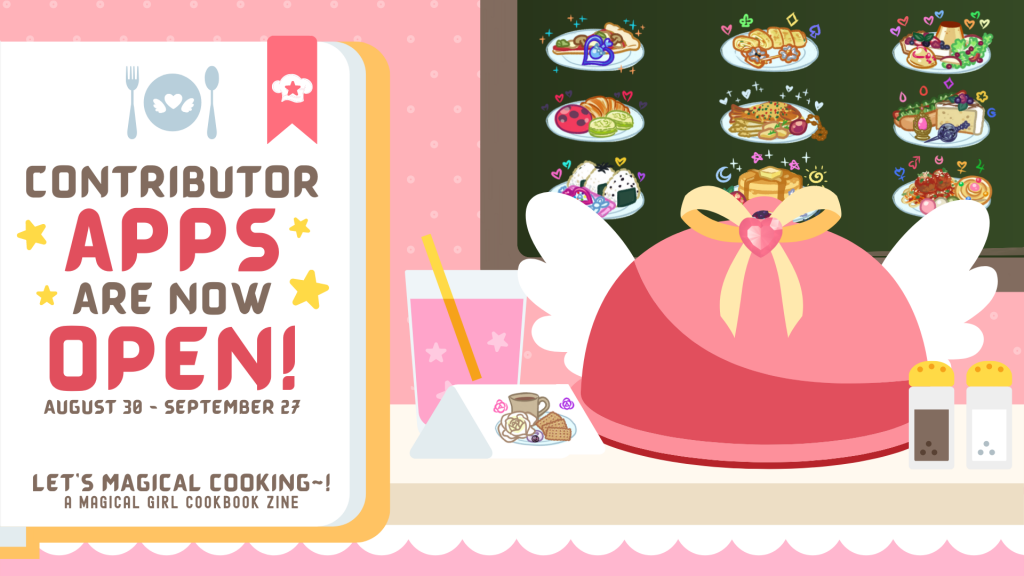 Q: With so much fandom being online now, what's the response been like across your social platforms to Let's Magical Cooking~!? And what would be your one go-to tip for creators who are managing zine social accounts?
A: We could not believe the overwhelmingly positive response! Each day seemed to bring more and more enthusiastic followers to our different accounts. Without their help and loving support, this project couldn't exist.
We would recommend making a schedule for your social media postings. It might seem a bit silly; however, by having a post schedule, everything becomes much easier to manage. Twitter and Tumblr have a wonderful scheduling feature ‒ you can plan your posts out in advance to ensure engagement stays high without having to be glued to your computer 24 hours a day.
Q: In handling the creation of a zine like Let's Magical Cooking~!, what would you say is an important element to keep in mind for other creators interested in creating their own zines or for artists/writers who want to participate?
A: Have fun! Zines have always been a process by which those with shared interests can come together, encourage and motivate one another, and create a wonderful end product. Zines do have their fair share of stress. Make sure you pace yourself, take the breaks you need, and have a great time working with those around you!
If you're unsure about your first zine, it's always a good idea to start with creating a free digital zine.
For artists and writers, one major piece of advice we would give is not to place your worth in zines. There are so many talented individuals who apply to contribute, and obviously zine teams can't take on everyone. It should not be a reflection on the artist or writer's abilities.
Q: Any final thoughts?
A: The team behind Let's Magical Cooking~! is so excited to be working on such a project. We cannot wait to share it with the world. Keep an eye out for sneak peeks and other things we have planned leading up to our pre-orders. And don't forget: Stay magical~!
Interview responses have been lightly edited for clarity.
---
An important note: Let's Magical Cooking~! is no longer accepting applications as of September 27, 2021.
You can follow Let's Magical Cooking~! on their site, Twitter, and Tumblr to stay up-to-date.
Have you been involved in running fandom zines before? Are you considering moderating one anytime soon? Let us know in the comments below or on Twitter!