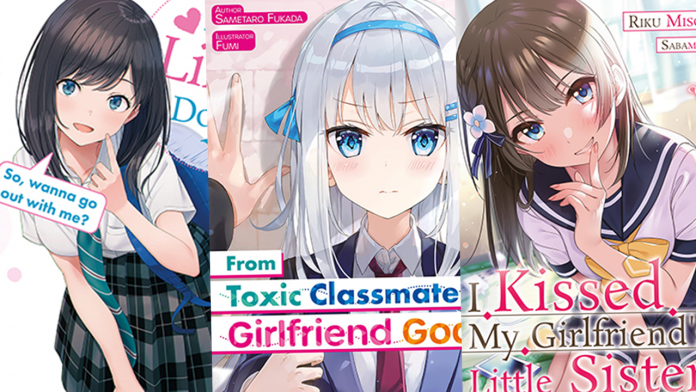 On Friday, new light novel publisher Tentai Books announced they've licensed three rom-com titles. The acquisitions were revealed in both a Twitter thread as well as a livestream.
The new light novel series include:
From Toxic Classmate to Girlfriend Goals
You Like Me, Don't You? So, Wanna Go Out With Me?
I Kissed My Girlfriend's Little Sister?!
All these titles will be available both digitally and physically, with four month schedules between. More information about release dates will be available later. Descriptions for each light novel can be found below.
During the stream, they also announced Welcome to the Outcast's Restaurant!, Vol 2 comes out November 16, 2021.
From Toxic Classmate to Girlfriend Goals
Author: Sametaro Fukada
Illustrator: Fumi
A sugary romcom with a happy ending — the author guarantees it!
Koyuki Shirogane is feared throughout her school for her sharp tongue, so much so that she's become known as "The Queen of Thorns!"
One day, Naoya Sasahara rescues her from a pushy classmate's advances. That's when he learns that she's nothing more than a normal girl who's adopted her harsh demeanor as a facade to protect herself. Koyuki ends up falling for the gallant Naoya, while he ends up smitten with her more vulnerable side.
Are the two capable of being honest about their feelings? Find out as, little by little, their hearts begin to open up!
"Returning home alone again? Can a guy's life be more depressing than yours?"
You Like Me, Don't You? So, Wanna Go Out With Me?
Author: Kota Nozomi
Illustrator: Azuri Hyuga
"Hey, Kuroya… you like me, don't you?"
"Wha–?! How in the world did you know?!"
Kuroya is your average glass-half-empty high-school guy. He was convinced that his crush was way out of his league, but she had just called him out on his true feelings… He's now just about ready to die of embarrassment!
The crush in question is Kasumi Shiramori, and not only is she his senior and the only other member of the literary club, but she's also one of the school's renowned beauties!
'How could she have known that I liked her?' Kuroya thought to himself, utterly livid. 'Sure, we do spend a lot of time together both in and out of the club, but still!'
"So… wanna go out with me?" Shiramori finished her one-two combo with this shocking propoition.
'She likes me too?! No way! Somebody pinch me!'
Find out what lies in store for these two new lovebirds in this super sweet and wholesome teenage romance. Lots of romance and teasing await!
I Kissed My Girlfriend's Little Sister?!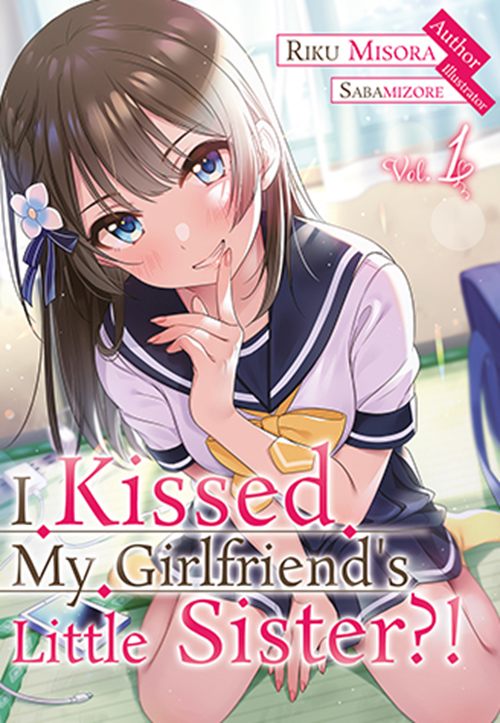 Author: Riku Misora
Illustrator: Sabamizore
My girlfriend's younger twin sister has somehow become my new stepsister?!
"You sound really nervous right now. You're just so adorable, bro."
It's been a month since I've started dating Haruka, my first ever girlfriend. We even finally reached first base today — holding hands!
"What a bad boyfriend you are. To think you're daydreaming about your little sister while you're holding hands with your girlfriend, of all people!"
Today's also special for a different reason–my dad's getting remarried, which means I get a new stepsister. Her name is Shigure, and she's pretty much the spitting image of Haruka. That's no surprise though, given that she's actually Haruka's long-lost twin sister! Due to family circumstances, they were split up at birth.
"It's okay, bro. I look exactly like sis does, right down to… well, you know. I don't blame you at all."
Her presence adds a new, twisted form of love that tangles itself into our protagonist's passionate love life! He can't possibly tell his girlfriend what's been going on!
Be sure to check out this saucy romcom with a raunchy and rather needy stepsister!
"We'd better not let my sis see us like this…"
Note: The version of this with "limited images" must be bought physically from Tentai Books.
About Tentai Books
Tentai Books is a small light novel localizer and publisher located in Madrid, Spain. They debuted in April 2020 with There's No Way a Side Character Like Me Could be Popular, Right? and Welcome to the Diner of the Exiled! Other light novels in the works by the group are How to Melt the Ice Queen's Heart and Turning the Tables on the Seatmate Killer!