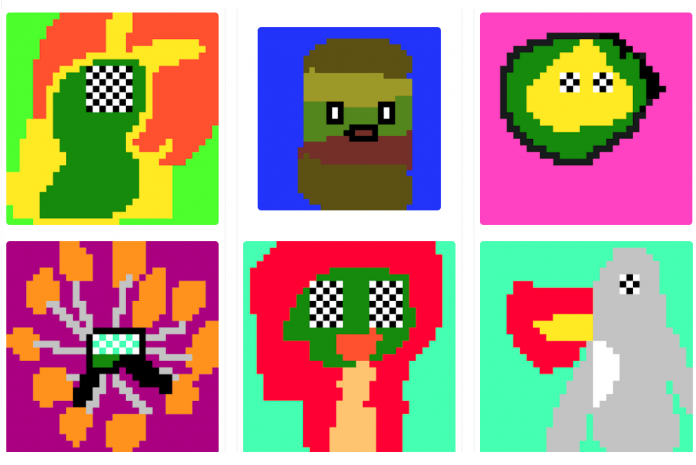 Everyone is keen to get on board with the hype behind NFTs (Non-Fungible Tokens). But Toei Animation, the studio behind Dragon Ball, One Piece, and more seems to be the first to produce an anime about them (as long as you don't count the terrible Bored Ape Yacht Club animation that was making the rounds on Twitter).
The studio announced on Tuesday that it will produce an anime based on the NFT art collection of a Japanese eight-year-old boy artist "Zombie Zoo Keeper." Toei Animation plans to "unveil" further details about the project this spring.
Zombie Zoo Keeper, whose real name is unknown, created the NFT collection Zombie Zoo as a research project assigned to him over summer vacation by his school in 2021. Zoo Keeper was aided by his mother and father. His mother is an artist herself, Emi Kusano, and his father, Junichi Yamaoko, is both a researcher and artist. Zoo Keeper drew all his pixel art on his iPad, which he then started selling as NFTs. While the NFT collection is the most well-known in the West, the collection has notable celebrities such as DJ Steve Aoki, who bought NFTs in the collection.
As of January 24th, Zombie Zoo Keeper's collection includes 209 pixel art pieces, all of which are available on the NFT marketplace OpenSea.
Zombie Zoo Keeper has achieved notoriety in Japan and was later selected on the "2021 Forbes JAPAN 100" list. In their announcement, Toei Animation stated that he quickly "became the face of the 'NFT Art Scene' in Japan."
Toei Animation also stated that they have a long history that has "brought many kids' animations into the world through the hands of adult creators." But this time, "the main creator of this project is the children themselves," clearly looking to have the Zombie Zoo Keeper call some of the shots on the series. The company added that it "started this project because we wanted to support and create animations that reflect children's creativity as it is."
Toei Animation clearly looks to get involved in the controversial NFT space, though this is its first major project. They stated that they will "[partner] with creators to develop animation franchises based off of NFT artwork."
---
What do you think about Zombie Zoo Keeper working with Toei Animation? Let us know in the comments below or on Twitter!