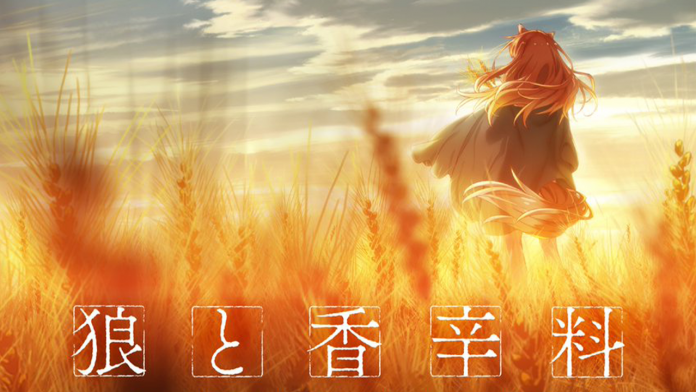 On Friday, February 25, 2022, author Isuna Hasekura's official website shared a new video that announced an all-new Spice & Wolf anime based on the popular light novel series. 
While the promotional video does not note if the new anime series will serve as a remake of the original series or as a sequel, it does show several scenes between main characters Kraft Lawrence and Holo.
And as shared via Anime News Network, the various taglines in the video read as "Shall we embark on a journey again" and "Holo the Wisewolf and Lawrence the Merchant's story continues."
There is no news yet on a release date or cast.
Spice & Wolf's 15th Anniversary
Spice & Wolf was originally launched back in 2006. The series comprises 23 light novels as of February 2022 that have been published under ASCII Media Works and under the English publisher Yen Press. The most recent novel was released in September 2021.
Spice & Wolf has also been adapted into a manga series and an anime series that ran in 2008.
Yen Press' official synopsis for the series describes the story as:
"The life of a traveling merchant is a lonely one, a fact with which Kraft Lawrence is well acquainted. Wandering from town to town with just his horse, cart, and whatever wares have come his way, the peddler has pretty well settled into his routine-that is, until the night Lawrence finds a wolf goddess asleep in his cart. Taking the form of a fetching girl with wolf ears and a tail, Holo has wearied of tending to harvests in the countryside and strikes up a bargain with the merchant to lend him the cunning of "Holo the Wisewolf" to increase his profits in exchange for taking her along on his travels. What kind of businessman could turn down such an offer? Lawrence soon learns, though, that having an ancient goddess as a traveling companion can be a bit of a mixed blessing. Will this wolf girl turn out to be too wild to tame?"
For Spice & Wolf's 15th anniversary, a number of celebratory things have been announced alongside the new anime project. Hasekura's site was launched as well as an official Twitter account that shared the new anime's promotional image.
New merchandise such as figurines from GoodSmile US have also been released in celebration of the series' anniversary.
You can find Spice & Wolf through Yen Press and the original anime can be found on Funimation and Crunchyroll.
---
Are you looking forward to seeing Spice & Wolf grace the small screen again? Let us know in the comments below or on Twitter!