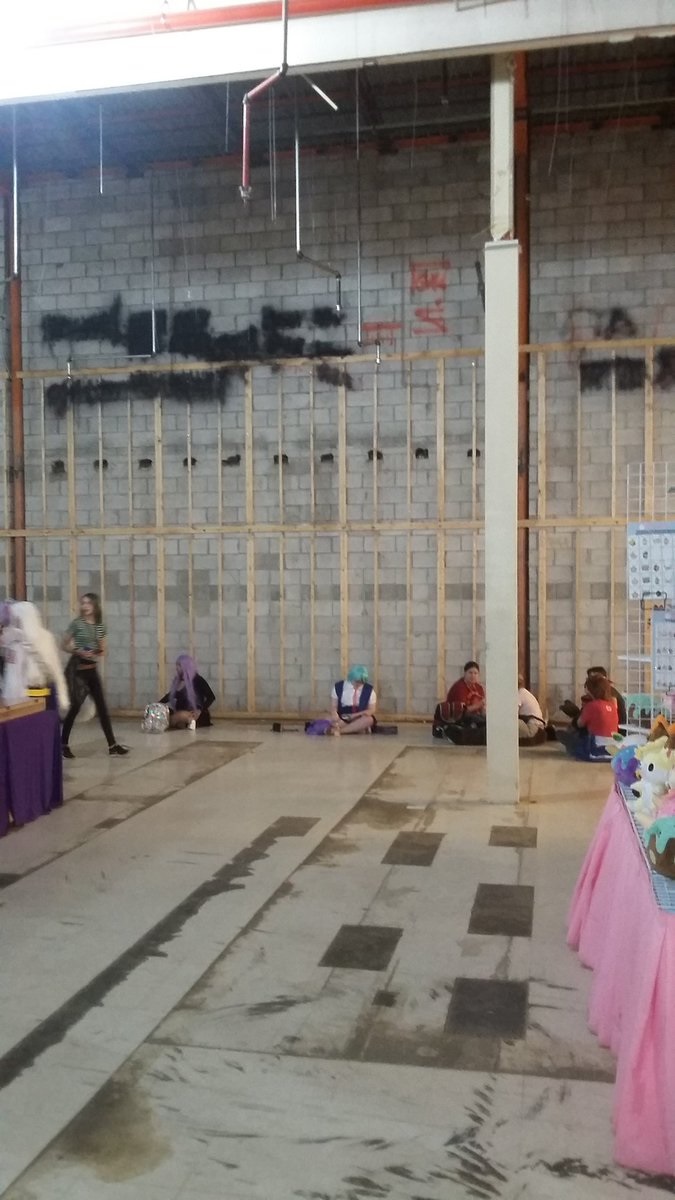 Featured image via @Ichneumonidaem
In 2016, OtakuHoma, a very small anime "convention" in Oklahoma City that was held in one small room, held its second and final gathering. Just before it was supposed to happen in 2017, Oklahoma's newest anime convention, Otaku Matsuri, was suddenly canceled. They have yet to announce any plans of making any kind of return. In 2018, Izumicon—one of Oklahoma's more prominent anime conventions—was forced to end after just over a decade of operating. Through it all, since 2008, Tokyo in Tulsa has managed to persevere year after year. With an estimated attendance of more than 10,000 people, it's currently Oklahoma's largest anime convention. It's also, incidentally, currently Oklahoma's only anime convention.
2019 was destined to be an unusual year for Tokyo in Tulsa; a "

transition year

" as they'd call it. Its usual venue, Tulsa's Cox Business Center (not to be confused with Oklahoma City's Cox Convention Center), started undergoing a

$55 million renovation in July 2019

. Despite these renovations being known about since

July 2018

, Tokyo in Tulsa didn't tell the public that the convention wouldn't be held there until late

February

—only about five months before the con. They made a long Facebook post that detailed why Tokyo in Tulsa was in need of a new venue, and also states that "Currently, we are on the final steps of a contract with our potential new venue." That "new venue" would be Broken Arrow's Stoney Creek Conference Center and Hotel. Partially, at least.
Spoiler alert: this isn't the Stoney Creek. Image via @augustasands

Two weeks before the con, issues arose between Tokyo in Tulsa and the venue inside of Stoney Creek that they planned on using as the shopping bazaar. According to Zac Murphy, Assistant Director at Tokyo in Tulsa, "The final vendor and artist location was only chosen because we had a venue change their terms two weeks out, and were unwilling to be accommodating. We were forced to relocate and secured the only location we could in that time frame. Had we not secured that space, the only other option would have been placing vendors and artists outside under tents, and that would have been unacceptable. Having them as well as attendees in the heat for extended periods was an unacceptable option for us because we would never want to subject our amazing con family to that."
The "only location" Murphy is referring to is a dusty warehouse that formerly housed a Hobby Lobby. It, alongside Stoney Creek and a Hilton Garden Inn, made up Tokyo in Tulsa's new venue. Being such a sudden change, Tokyo in Tulsa was unable to tell the artists and vendors about this until the deadline for requesting a refund had long since passed. Evidently, Tokyo in Tulsa wasn't flexible about this even in light of the circumstances. Anyone who didn't want to sell at this former Hobby Lobby was just plain out of luck. And why wouldn't they want to sell here?
The former Hobby Lobby was four miles away and isolated from the con's core at Stoney Creek and the Hilton, for starters. Fire extinguishers were missing, wiring was out in the open, the floors hadn't been cleaned ("The floors were filthy, and it was obvious they did not sweep through to make sure hazards were cleared." an anonymous attendee says, "I found dirty screws on the floor…I warned my friends. Others had their cosplays ruined."), many areas had little or no lighting ("Since me and other artists were facing the wall away from the window (the brightest light source) many of us had to go out a purchase lights out of our pocket to allow our tables to be visible" says

@nobledemonsxo

), and the air conditioning seemed to be working only in a few spots. This former Hobby Lobby may have been the only area Tokyo in Tulsa could secure in the short span of time they had, and I think most (if not all) people would agree that it was a better alternative than making everyone selling their art and wares outside in the middle of an Oklahoma summer, but it was still a massive safety hazard that Tokyo in Tulsa did little to help nonetheless.
"I have nothing but sympathy and love for our artists; I live in the Tulsa Area and seeing the con I grew up [with] treat them so poorly and drive them from the state was very upsetting. It also felt very scary as an attendee [because] the venue felt [very] unsafe," says @sharkchimedes
Images via @alecmitchell and @marennivy
The only complaint about this building that Tokyo in Tulsa directly addressed was its distance from the rest of the con. They hosted a shuttle service to help attendees more easily access the building. Unfortunately, this shuttle wasn't as helpful for congoers with disabilities. An anonymous congoer says, "They forced their disabled guests to sit out in the sweltering heat or inside of the dusty vendor hall to wait for an accessible bus. The con was NOT disability-friendly."
When asked about whether or not Tokyo in Tulsa plans on returning to this venue (the Hobby Lobby, specifically), Murphy said, "No, we do not plan on returning to the shopping venue next year. It was only chosen as a last resort after our other venue refused to be accommodating at the last minute. It was never our intention to place them there in the first place, and we know that it wasn't an optimal venue. But it was the only one we could secure in the time frame."
The silver lining is that despite the poor conditions and low morale (which was lowered further by one artist who was critical of the con being told to leave for making a joke about encouraging people to "ghost" the con—an incident that even caught the attention of

the local news

), Murphy says that the artists and vendors still managed to do well in terms of sales. "There has actually been an overwhelmingly positive response to how well our vendors and artists did, so much so we already have vendors and artists requesting when table registration will be open for next year." he said, "We take the concerns of our attendees, artists, vendors, special guests and staff very seriously and we sincerely look forward to working with all of them to ensure we improve next year, and all the following years."
"We take the concerns of our attendees, artists, vendors, special guests and staff very seriously" Image via @augustasands

The Cox Business Center is still scheduled to be under renovation next summer. Hopefully, armed with the criticisms made this year, Tokyo in Tulsa really will be able to secure a better venue—one that's not a blatant safety hazard, for starters. One that's equally accessible for disabled guests. Even if there are artists who would "like to return next year" I think it's a safe assumption that there's significantly more who'd prefer to be operating in better conditions. They should at least have the security of knowing that they can get a full refund if they change their mind about wanting to sell their art at Tokyo in Tulsa—especially if they change their mind because they don't feel safe in the venue. "[Tokyo in Tulsa] is my home con and [it's] disappointing to see how the artists were treated this year. I hope this sparks change in them [because] I love Oklahoma and I want other people to love coming here. This really ruined its reputation with several artists. I just have to hope it gets better!" says @biggestrebel.
In the meantime, a new local anime convention—

Anime Oklahoma

—is currently scheduled to happen the weekend of September 13-15 in Midwest City's Reed Conference Center. Little is known about this con as 2019 is its first year. The con's chair, Toni Ryu, has been hosting recurring pizza parties at Norman's One Stop Anime to promote the con. Furthermore, although they're not specifically anime focused,

New World Comic Con

will still be happening at the Oklahoma Fair Grounds later this month (July 27),

Enid Comic Con

is August 2-4,

Shawnee Comic Con

is August 17-18,

Wizard World Tulsa

(which recently announced

Jason Momoa

will be there as a guest) is September 6-8,

Lexicon

(in Stillwater) is September 14, and

El Reno Fan Fest

is September 20. If you want to look even further into the future,

Soonercon

, Oklahoma's oldest pop culture convention, is scheduled for June 26-28 in Norman.
[EDIT: Updated to reflect venue change for Anime Oklahoma]
[EDIT: Adjusted wording in the third paragraph. "We had a venue that was actually inside the square mile where Stoney Creek is for our shopping bazzaar. That venue is the one that changed their terms two weeks out, and left no room to be accommodating." said Murphy]