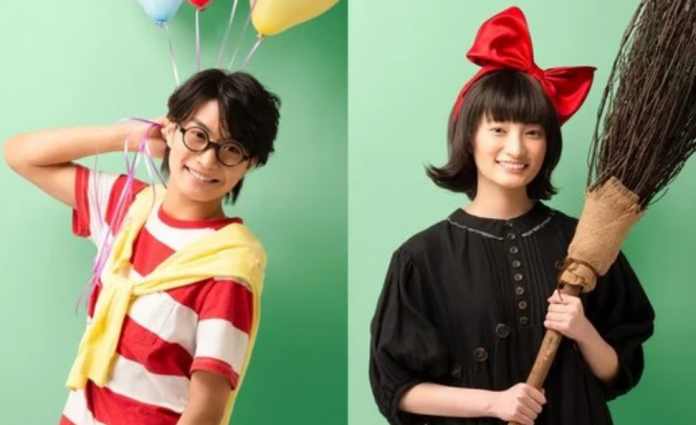 Kiki's Delivery Service, the classic film by Studio Ghibli, is getting a brand new stage musical adaptation that will run in theatres across Japan in March and April of this year. The main cast members include Neo Inoue, who will play the titular Kiki, and Yuto Nasu, who will play the beloved Tombo.
So far, three cities have confirmed that they will host the musical in their local theatres: Tokyo on March 25th-28th, Nagoya on April 10th-11th, and Osaka on April 15th-18th.
This will be the third run of the musical adaptation of the film/novels by the same production company. The first run starred Moka Kamishiraishi as Kiki and Aran Abe as Tombo. It was performed in theatres in Tokyo and Osaka from June through September 2017 to rave reviews. The production came back to theatres with a second run starting in 2018, this time starring Riko Fukumoto as Kiki.
With its hit popularity, this is not the first time a production company has brought the series to the live stage. Yukio Ninagawa directed a stage musical adaptation which had various runs spanning from 1993 to 1996. Furthermore, a stage play adaptation opened in the famous London West End in 2016.
The original set of novels titled Majo no Takkyubin by Eiko Kadono follow young Kiki and her black cat, Jiji, as she embarks on a coming-of-age journey. Fans only familiar with the Studio Ghibli film may be surprised to know the original novels have had an incredibly long run, much longer than any film could show. The original novels started in 1985 and only ended in 2009. Furthermore, Kadono published a side story centering on the character Osono, which has been ongoing since 2014. Kiki's Delivery Service got its fame on an international level after the release of Hayao Mizazaki's directed Studio Ghibli film in 1989 and its English-translated Disney release in 1998. A less talked about live-action film starring Fuka Koshiba as Kiki premiered in 2014 as well.  
The novels are published in localized English by Annick Press with translation done by Lynne E. Riggs. They have been steadily released since 2003. A newer, improved translation of the first novel in the series was released by Emily Balistrieri under Penguin Random House publishing in July of last year.
---
Are you excited to see the new adaptation of Kiki's Delivery Service? Let us know in the comments below or on Twitter!