There are a lot of subscription boxes out there these days, and sometimes it's hard to know which ones to get. As an anime fan, there are quite a few, including Loot Anime, YumeTwins, Crunchyroll Crate, Japan Crate, and more. This month, I was lucky enough to receive a free Doki Doki Crate (by Japan Crate) to review on our site, and it did not disappoint! The following is an honest review of February's Doki Doki Crate:
Doki Doki Crate: February 2021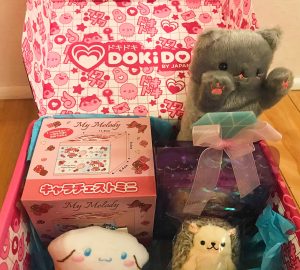 First off, I want to say how surprised I was at how quickly the box got to me. I received it on February 3rd (they usually start shipping before the end of the previous month so customers get their boxes on time). The theme for February's box was "Soft and Sweet" for Valentine's Day.
When I opened the box, I saw that everything was packaged nicely with pink tissue paper and in an organized manner. Things weren't crammed in the box or placed carelessly. Along with the items came a pamphlet that included the descriptions of each item included in the box. The products in February's Doki Doki Crate were as follows:
Little Twin Stars Gift Set
The lotion is a nice, smooth consistency and has a sweet smell to it. I was actually pleasantly surprised at the scent: it smelled like a mixture of tea and flowers. The little cloth it came with was super cute too and featured the Little Twin Star characters.
My Melody Chest
This small My Melody Chest is adorable and perfect for Valentine's Day. With the art on this cute, practical little chest featuring a theme of both love and chocolate, it was the perfect fit for this month's theme. The chest is small enough to hold in one hand, but its drawers are spacious enough to fit anything from jewelry to trinkets, or even love notes. It's easy to open and close as well.
Nigitte! Nyanko Plush
This was my favorite item in the box. It's so adorable! It's very detailed and looks almost like a real kitten. It's soft, cute, and even squeaks if you squeeze it. Customers who subscribed and received February's box received one of several different Nigitte! Nyanko plush cats. I received the pictured gray cat.
Sanrio Cupcake Keychain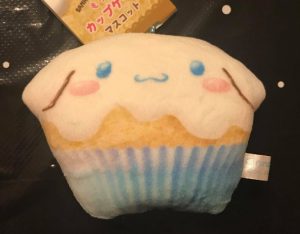 This charm is another kawaii item in February's Doki Doki Crate. Customers could also receive one of several options for the Sanrio plush charm. I received the cinnamoroll one, complete with cute cheeks and mouth. It's perfect to put on a keychain or to simply use as a decoration or accessory. It was a perfect addition for the theme of "soft and sweet" for this month's box.
Petitcolon Animal Charm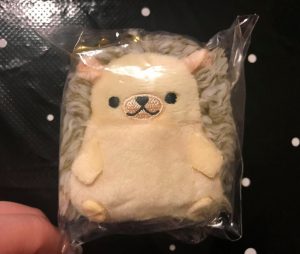 Finally, the last item I received in this month's box was an adorable hedgehog plush charm. This was also one of many possible animal charms for this month's box (other possibilities include a duck, tanuki, lamb, sloth, and more). It comes with a sturdy chain and an open bottom with something to attach your keys onto so that the two never disconnect. Very cute and practical!
Overall, I'd have to say that customers really get their money's worth from the Doki Doki Crate subscription box. All the products are really good quality, and there's a wide variety of cute items that will satisfy anyone who is looking for more kawaii goodness in his/her life. 5/5.
If you are interested in ordering one of these crates or a subscription to receive a new one each month, check out the Doki Doki Crate site. If you want to view more photos on the types of products in the subscription box, check out the Doki Doki Crate Twitter here.
---
What do you think of the items in the February Doki Doki Crate? Let us know in the comments below or on Twitter!