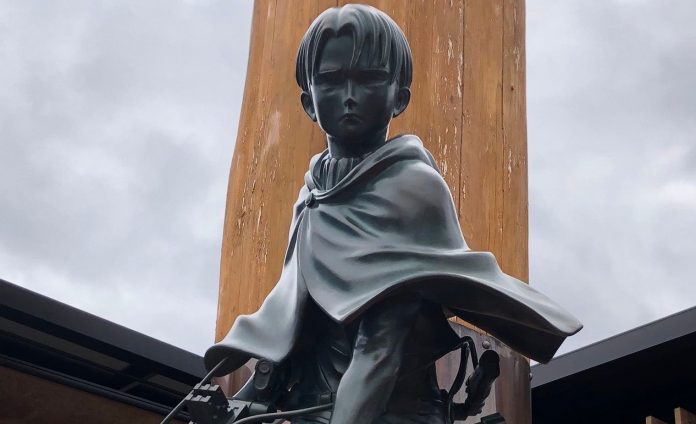 Hit action anime series Attack on Titan gets a new tribute in the scenic city of Hita in southwestern Japan. Popular main character Levi Ackerman has been given his own statue, erected outside the city's JR Hita Station. The city in the Oita prefecture is the childhood hometown of Attack on Titan creator Hajime Isayama. The elite captain is not the only one to get the statue treatment. Other Attack on Titan statues in Isayama have been erected, including the characters of Eren, Mikasa, and Armin.
The organizers of the statue unveiling had to delay the set-up of the statue. The ceremony was pushed back last summer, due to conditions in the country handling the COVID-19 pandemic. The city planners delayed the unveiling to early 2021, with the statue finally going up on March 6th.
The design of the statue was crafted using a reference image based on an original drawing from Isayama, who worked in collaboration with the prefecture's government. Giving a statement about the statue's eventual unveiling ceremony, the mangaka has this to say:
"He's the most popular character who has helped sustain Attack on Titan for all these years; I owe him a huge debt of gratitude. I hope he's pleased."
The way that the four statues are placed in the town was also picked very carefully. The other three statues were placed in positions looking up to the Oyama dam as a callback to the iconic scene of the colossal titan peeking over the walls of the city of Shiganshina. Meanwhile, the captain Levi leads a defensive position from the plaza of the train station, which doubles as an entrance to the city.
The project for the statues was funded by local volunteers and fans of the series, who assisted in placing the statues around the town as well.
Hita is a relatively small city of 65,000, located on the southernmost island of Kyushu. The main business of the town includes logging, as well as traditional Onta ware pottery and wooden Geta bowls. Tourism to the area is mainly due to its Meiji period Mameda town, but the popularity of Attack on Titan has had fans steadily coming to the city. With these statues, the Hita government hopes to attract more tourists.
---
What do you think about these Attack on Titan statues in Hita? Let us know in the comments below or on Twitter!