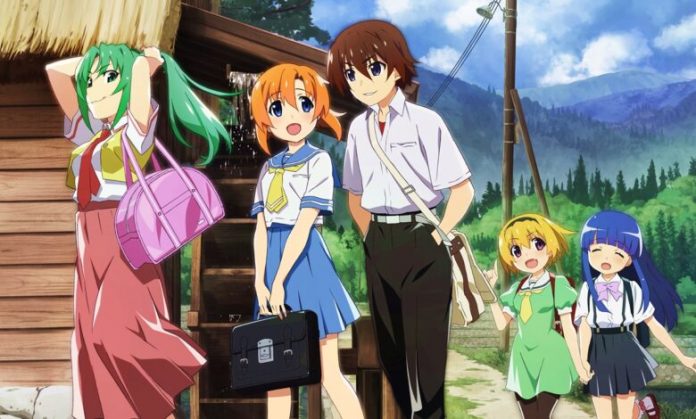 The popular anime franchise Higurashi: When They Cry made an announcement on their official Twitter account on Friday that there will be a sequel to the latest series of Higurashi: When They Cry – GOU. The follow-up television series will be titled Higurashi: When They Cry – SOTSU and will premiere to Japanese television audiences and Funimation users in July of this year. The announcement was also promoted by publishing giant Kadokawa, who streamed a promotional video announcing the series at the start of a new chapter.
This comes swift after the finale of Higurashi: When They Cry – GOU. The 24th episode aired on March 18th. The series originally premiered on October 1st and had a simulcast stream partnership with Funimation, which also streamed an English dub. The manga adaptation of the series written and illustrated by Tomato Akase launched on Kadokawa's Young Ace online service on October 2nd.
The anime was originally supposed to premiere last July. However, due to the COVID-19 pandemic, production had to be put on hold for the safety of the production crew.
The anime's second episode had a cryptic twist about the show itself, where the series' "true" title was actually revealed to be Higurashi: When They Cry – GOU on October 9th. Funimation reported "that the creators intentionally did not reveal to the world until Episode 2."
The returning Japanese cast members of the series are as follows: Soichiro Hoishi as Keiichi Maebara, Mai Nakahara as Rena Ryugu, Satsuki Yukino as Mion Sonozaki, Mika Kanai as Satoko Hojo, Yukari Tamura as Rika Furude, Chafurin as Kuraudo Ooishi, Toru Ohkawa as Jiro Tomitake, Miki Ito as Miyo Takano, Toshihiko Seki as Kyosuke Irie, and Yui Horie as Hanyu.
The original content of the series was handled by Ryukishi07 and his alias 07th expansion. The following all worked on Higurashi: When They Cry – GOU and are speculated to return for the sequel series: Keiichiro Kawaguchi joins the series as director. The team at Passione is producing the series; they were also behind the animation production of Citrus, High School DxD Hero, and Rokka: Braves of the Six Flowers. Akio Watanba is lead character designer, whose notable work includes character design on the Monogatari anime. Naoki Hayashi of Black Fox and Citrus leads the series' composition for the anime, heading a team notably including returning composer Kenji Kauai, who did work for Ghost in the Shell and Mobile Suit Gundam 00. 
---
What are your thoughts on another installment of Higurashi: When They Cry? Let us know in the comments below or on Twitter.