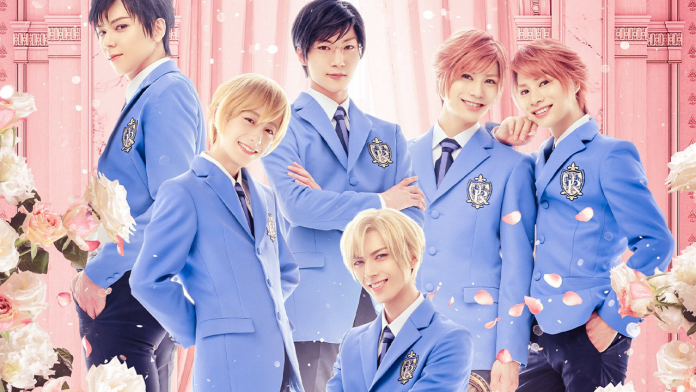 Exciting news has just been released about an upcoming stage musical opening in Japan. It has been announced that the hit shojo series Ouran High School Host Club will be getting a stage musical adaptation in Japan next year, 2022. The musical will be performed in Tokyo and Osaka.
The shojo series by Bisco Hatori has been a hit since the manga's release in 2002. The manga has received multiple adaptations in various forms. The anime adaptation (released in 2006), the visual novel for the PS2 (2007), the TV drama series (2011), and the live-action film (released in 2012) have all been loved by fans of the series. So, this newest adaptation is sure to be another great rendition of the series that fans will love.
A new website has been released for the Ouran High School Host Club stage musical. Both this website and the play's official Twitter page have released the cast, trailer, and promotional video for the musical. This information is as follows:
Cast:
Junya Komatsu – Tamaki Suou
Yū Futaba – Hikaru Hitachiin
Kaname Futaba – Kaoru Hitachiin
Masamichi Satonaka – Kyoya Ootori
Eito Konishi – Mitsukuni Haninozuka
Shō Katō – Takashi Morinozuka
The promotional video for the stage musical was attached to the original tweet and is also featured on the website, but it can be seen here as follows:
葉鳥ビスコが描く「桜蘭高校ホスト部」待望のミュージカル化!

歌劇『桜蘭高校ホスト部』
2022年1月東京・大阪にて開幕!#須王環 役:#小松準弥 #鳳鏡夜 役:#里中将道 #常陸院光 役:#二葉勇 #常陸院馨 役:#二葉要 #埴之塚光邦 役:#小西詠斗 #銛之塚崇 役:#加藤将 ほかhttps://t.co/2lC5iKPo9D pic.twitter.com/xJ12smtRzs

— 歌劇『桜蘭高校ホスト部』 (@ouran_m) June 18, 2021
Ouran High School Host Club follows the story of Haruhi, a tomboyish girl on a scholarship of a high school for the wealthy. She skates by unnoticed until one day she breaks an expensive vase belonging to a host club at her school. In order to pay for this vase, she must dress as a boy and participate in the club's host club activities. Her tomboyish look comes in handy, as the clients aren't able to figure out she is actually a girl. Soon, Haruhi finds herself forming friendships, having fun, and finding belonging in one of the unlikeliest of places.
---
Are you excited for the new stage musical? Let us know in the comments below or on Twitter!