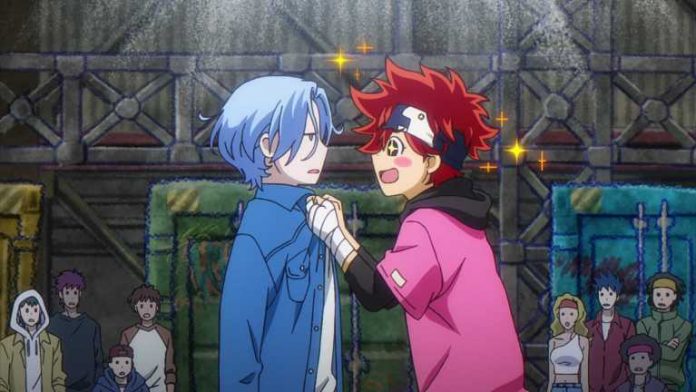 An announcement from the evening session of the "Sk8 Masquerade of Love" stage event has slated a new Sk8 the Infinity anime project and a two-part made-for-stage play production. Details about the new Sk8 the Infinity projects are yet to be announced. So far, information from the Sk8 the Infinity anime's Twitter account and website has pledged to announce more details about the new anime project in the future. The first Sk8 the Infinity stage play, titled Sk8 the Stage, will open to live audiences this December, while the second part of the stage play will open next January.
The anime premiered this year, in 2021, and centers on Reki, an average second-year high school student who has digs for shredding on his skateboard. Reki gets caught up with an organization known as "S," an underground, freestyle skateboarding race with no rules in an abandoned mine. Langan, Reki's friend who has returned to Japan from Canada, also gets wrapped up in the deadly "S" race. Reki and Langan face all sorts of dirty racers (robots) to compete in the "youth skateboard race battle."
Hiroko Utsumi, who has previously worked on Banana Fish, Free! – Iwatobi Swim Club, and Free! Eternal Summer, directed the Sk8 The Infinity anime with studio BONES of Full Metal Alchemist, My Hero Academia and Mob Psycho 100. Ichiro Okouchi, known for Code Geass: Lelouch of the Rebellion and Kabaneri of the Iron Fortress, wrote and oversaw the scripts for the series. Michinori Chiba, known for work on Basilisk and Mobile Suit Gundam: Iron-Blooded Orphans, designed the characters for the series. And finally, Ryō Takahashi of ACCA: 13-Territory Inspection Dept and Argonavis from BanG Dream! composed the music for the anime.
The anime premiered on Japanese ABC TV and TV Asahi's "ANiMAZiNG!!!" anime programming block on January 9th of this year. Funimation streamed the anime on its services as it aired (simulcast) and began streaming an English dub in February.
---
Are you looking forward to the new Sk8 the Infinity stage play? Let us know in the comments below or on Twitter!