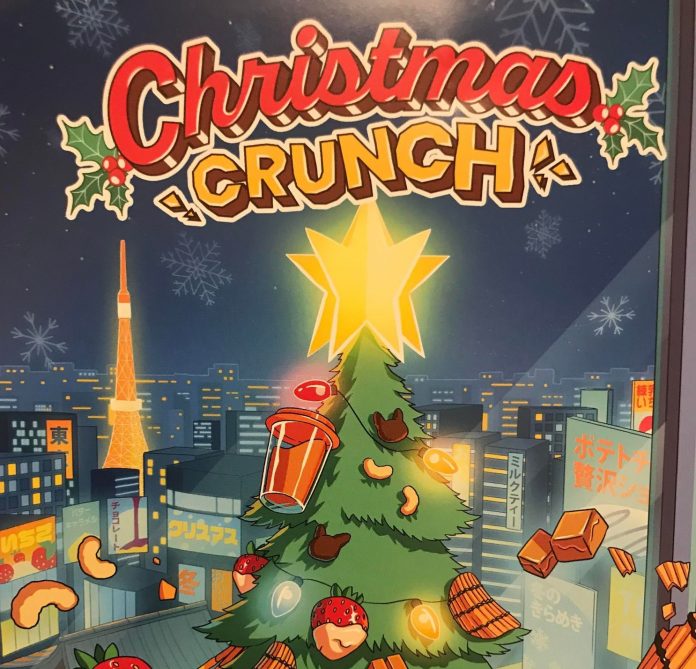 We always love reviewing subscription boxes straight from Japan. Recently, we reviewed the YumeTwins crate by TokyoTreat company. Now, we are reviewing the TokyoTreat box, which was the first subscription box the company offered when it started its online shop.
The TokyoTreat box consists of treats and goodies from Japan for your eating pleasure. The December box they are currently offering is Christmas-themed and full of a lot of seasonal treats that are often enjoyed during the holidays in Japan.
TokyoTreat December Review
The first thing I want to mention is how much was sent. There was so much stuff! I was pleasantly surprised with how much was packed in the TokyoTreat box. A lot of the treats in this month's box were different kinds of puffs (treats with the consistency of cheese puffs). I thought that was an interesting theme of treats, but they all offered their own spins.
What is included in this month's box:
Calpis strawberries and cream drink
Milk tea-flavored Kit Kats
Pokemon Christmas party snacks
Premium Umaibo mozzarella and camembert cheese flavor
Cola foam fizzy candy
Winter caramel Pocky
Calbee luxury chocolate potato chips
Caramel corn white milk snack puffs
Christmas Umaibo chocolate
Christmas new mochi taro
Christmas fugashi
Sankaku vegetable crackers
Pandaro melon-flavored cookies
Choco waffle kun
Chibeans
Cocoa Bolo
Aji cheese puffs

I'm going to start out with my favorites from the haul: the caramel corn white milk snack puffs, the caramel pocky, and the Pandaro melon-flavored cookies.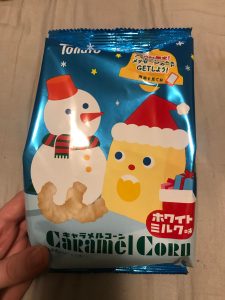 Caramel corn white milk snack puffs: These treats were super good. They had the consistency of a cheese puff but tasted like caramel corn. They were very addictive. Beware! You won't be able to just have one!
Winter caramel-flavored Pocky: I'm a big fan of Pocky, especially the traditional chocolate and strawberry flavors. And this caramel flavor was even better than the rest! It was both salty and sweet and probably tied with the caramel corn puffs as my favorite sweets in December's TokyoTreat box.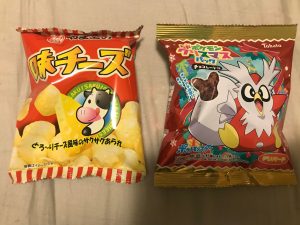 Pandaro melon-flavored cookies: These cantaloupe-flavored cookies were really sweet and tasted just like a melon! They were small, cute, green, and delicious.
Pokemon Christmas party snacks: These chocolate Pokemon puffs had the same cheese puff consistency as the caramel corn puffs, and many others in this crate, but it tasted kind of like Orea cereal. They are even Pikachu-shaped, which was an added bonus!
Aji cheese puffs: These little cheese puffs were a fun addition to this TokyoTreat box because they added the classic cheese flavor to the puff consistency featured in many of the other snacks. They weren't my favorite but were still a fun treat.
Cocoa Bolo puffs: These little puffs looked and tasted a lot like Cocoa Puffs (the cereal). However, they had a hot chocolate aftertaste, which is hard to describe unless you eat one yourself. The little pamphlet that came with the box explained that these puffs are great to eat with hot chocolate, and I can see why!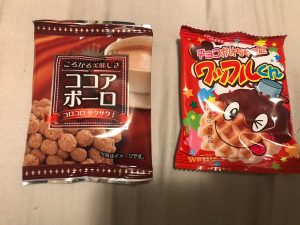 Calbee luxury chocolate potato chips: These chips were a tasty combination of salty and sweet. They are a pretty self-explanatory snack: potato chips with chocolate drizzled on top. These were up there on my favorites of this month's box.
Cola foam fizzy candy: These candies were a mix between Bottlecap candies and the fizzy cola candies you can sometimes get at convenient stores and candy shops. Each candy looks like a little circle tablet, but as soon as you start to chew it, it turns into a fizzy cola-flavored experience.
Choco waffle kun: These waffle treats were cocoa-flavored and added a breakfast touch to the December TokyoTreat box. Although they weren't one of my favorites, they were still a tasty snack.
Premium Umaibo mozzarella and camembert cheese flavor: If you love cheese-flavored puffs, this is another good snack for you in this box.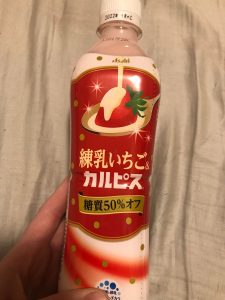 Calpis strawberries and cream drink: This drink is a little Japanese Christmas cake in a bottle! The TokyoTreat pamphlet says that sweet and sour strawberry cakes are popular this time of year in Japan. Since they can't ship an entire cake to us, they added in these strawberry and cream drinks instead. It's both tangy and sweet.
Sankaku vegetable crackers: I wasn't a huge fan of these, but if you like salty snacks with a hint of savory vegetable tastes, these little crackers will be a great pair with the sweet treats in this box.
Milk tea-flavored Kit Kats: These little frosted Kit Kats have a spicy milk tea flavor. They are sweet and creamy and have a little kick to them.
Christmas new mochi taro: These little puff balls come in a pack but didn't taste like much. I didn't really like them because of that.
Chibeans: I have to admit that I did not eat these ones. I don't like edamame or bean snacks. However, it is mentioned in the pamphlet that these beans are a popular snack in Japan during the holidays. So if you want an authentic snack experience, give these a try!
Overall, this was a really great box! I was initially hesitant because I have often found that I don't like a lot of Japanese snacks. I really liked many of these, though, and I enjoyed the experience of trying them all and learning what snacks are popular in Japan around Christmas.
If you want December's crate, just head on over to TokyoTreat's site here and sign up before the end of the month. They have speedy deliveries, too.
Buy it before the end of the month so you can enjoy a little bit of Japan this holiday season!
You can view the rest of the snacks I received in December's box here:
---
What snack are you most interested in? Let us know in the comments below or on Twitter!