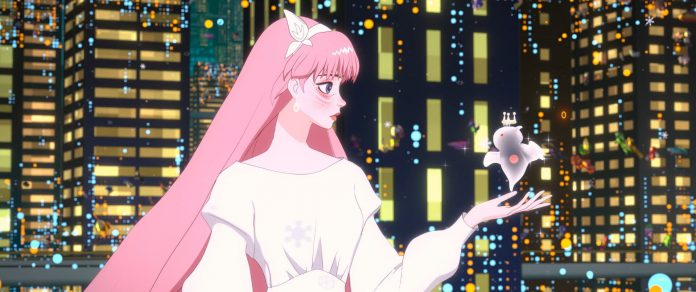 Belle, the newest film by trailblazing anime director Mamoru Hosoda and Studio Chizu, is making waves around the world. First, it received a 14-minute standing ovation at the Cannes Film Festival. Now, it's being shown across North America for one week only in select theaters. It has an amazing 95% on Rotten Tomatoes and is now up there with Hosoda's other works, such as Wolf Children, The Girl Who Leapt Through Time, and Mirai.
I was lucky enough to view it earlier tonight, and it left quite an impression on me. The following review contains spoilers for the film, so be aware of that before proceeding.
Plot
Belle is a film about a 17-year-old high school student named Suzu Naito. She lives in Japan's Kōchi prefecture and has suffered extreme depression and anxiety after the tragic passing of her mother when she was six years old. She and her mother had a loving bond and were very close during her childhood. Music was something they shared together as well, with Suzu's mother helping her with singing and piano.
One fateful day, a child is going to drown in a fierce river when Suzu's mother puts on a lifejacket and jumps in to save her. When the girl returns, she's wearing the lifejacket. Suzu's mother sacrificed herself for the sake of that girl, and Suzu is left without a mother. After this trauma, she becomes a different person. She cries all the time and then grows up somewhat detached from her life and kind of floats around in the background as a teenager.
She lives alone with her father but doesn't really take him up on his offers to eat with him or his gestures of love. She also runs from any kind of attention and even throws up when she is overwhelmed by being put on the spot at a karaoke party. This is also paired with her sorrow over having lost her musical gift.
Enter U. U is a virtual reality social media platform that connects everyone around the world – anyone who creates a profile and attaches themselves to this digital world. What's special about the avatars of this world is that each user is given an alternate version of his or herself based on their greatest inner strengths. It's in this world that Suzu becomes Belle, a rapidly rising star who can sing beautiful melodies and captivate global audiences.
Suzu loves this world at first, as it gave her the ability to sing again. However, as with any social media platform, with hundreds of thousands of followers comes hundreds of thousands of haters. Throughout the film, Suzu battles her real-life struggles with her virtual ones, all of which become intertwined by the end in the most impactful way. And eventually, she is able to use this platform for good. This happens after she meets a user in U people call the Beast (among many other names).
Before we get into that, let's talk about some of the non-plot-related high points.
Visuals and Score
I wasn't sure how I felt during the first half of the movie, as I was still assessing this world and (without meaning to) comparing it to Hosoda's other works (which I love). Regardless of my scrutinization, though, I was in awe of the visuals. They were spectacular, and even 3D-looking most of the time, especially while in the Beast's virtual castle. The art truly was stunning and rivaled pretty much every other animated film I've ever seen.
I loved the music as well. This aspect of the film was especially vital for the film to get right because so much of Belle is revolved around song. I was very impressed with Kaho Nakamura, the vocalist and songwriter behind Suzu/Belle's character. I absolutely adored the songs she sang; they were very goosebump-inducing. Lyrics, melody, and vocals – everything. The film is worth experiencing just for that. But there is so much more to it, too.
Modern Problems
Belle takes a sharp turn in a powerful direction once the story intensifies between reality and AI in Suzu's life. One of the best parts of the movie, however, is its social commentary. I appreciated this from beginning to end. The first bit of social commentary in this film is its portrayal of the struggles of being an adolescent in this social media age. I thought it was really well done because it shows the stress and anxiety this causes kids and teenagers while dramatizing it to the level of everyone in Suzu's school (and beyond) joining in a complete alternate reality where they are double scrutinized.
So, not only do they have to worry about their peers bullying them in reality, but they have to endure criticism and cyberbullying from strangers online as well. This is similar to what modern kids and teenagers face, just on a more dramatized scale. However, I did find it similar to how we portray ourselves in social media. We really are avatars of ourselves on social media. This was another piece of social commentary.
We All Wear Masks
In the U, users are given the ability to actually see and live life in this alternate reality. They are given avatars that bring out their greatest inner strengths, so they hide their true identities behind these masks. We do this in our own lives as well. How many photos do we post that are unfiltered? How many posts do we make that talk about the nitty-gritty parts of our lives? Social media shows fake "perfect" versions of ourselves and our lives, much like this alternate reality in Belle.
The biggest struggles our protagonist must overcome have to do with this theme. She must do things that are hard for people to do: stand up, even if it means major sacrifice on her part, and shedding her mask, even though she is someone who wants to hide under tables and in shadows.
In the climax of this film, Suzu shows that she truly is her mother's daughter when she overcomes the biggest discomforts and insecurities in her life to save the lives of two boys in need. One boy is a teenager, whose avatar she became quite attached to. He is the Beast, and no one sees who he really is. No one sees past his scars but her. And her songs and love mean more than anything else to him. But in order to truly help him, she must shed her mask and save him in reality.
Suzu's relationship with the Beast as Belle is the Beauty and the Beast spin-off part of this movie. When I first heard that this movie would be an adaptation of that story, I was excited for a romance, but that wasn't what it ended up being. But it was beautiful nonetheless. Suzu's love for him was pure and real, and it is what got her to become "alive" again. And her actions gave the real him the courage to take a stand in his life, too.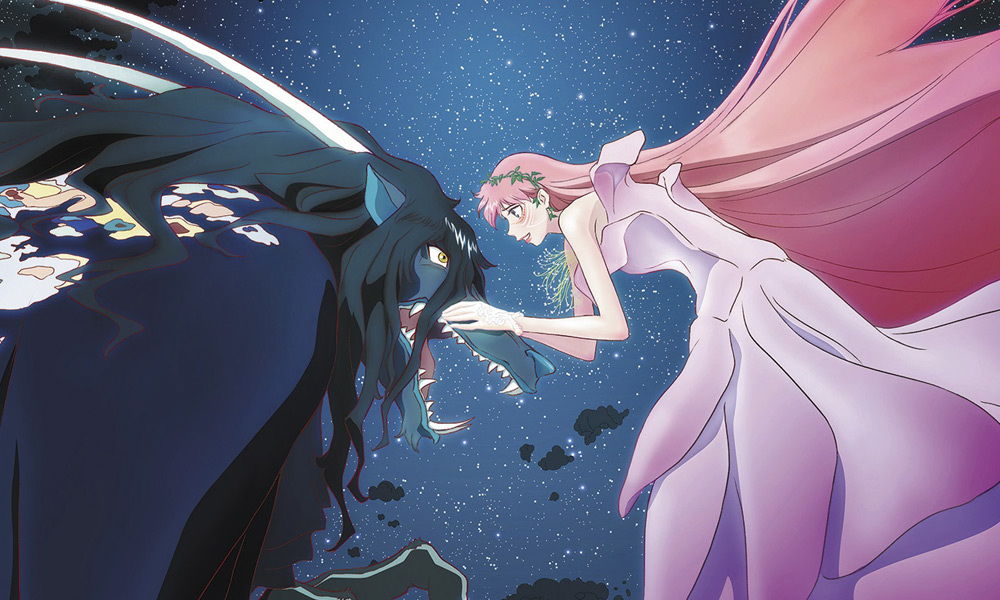 Overcoming Trauma and Obstacles
I was entranced by this movie. In the music, the visuals, and especially the story and its themes. Suzu and the boy behind the Beast are both powerful figures in the U because they contain so much strength in their hearts. This theme was extremely powerful. The pain they'd endured and the love they contained made them strong, but they didn't see it in themselves. And since their strengths were hidden in reality, it took a new kind of strength for them to be able to see it and to be who they always could be.
For Suzu, that meant overcoming her inner obstacles to save the boy behind the Beast. For that boy, it meant knowing he was worthy of love and had the strength to take a stand and make a difference in his life, and in his brother's life.
The theme of overcoming trauma and obstacles made this movie a 10/10 film for me. Everything else about it was great, but this was so sweet and well done, and it gave important messages that the world needs to hear and see. Hosoda did a spectacular job executing it.
There were many strings I didn't mention that played into these themes in Suzu's life as well, but the ones I've described in this review were the main ones. Once she had something to fight for, she fought with everything in her, just like her selfless mother. And then she got her life back. As if her soul hopped back into her body after 11 years of being away.
It was as if she and the boy behind the Beast had been shells of their former selves due to their trauma. But because of the love of others and the strengths they found in themselves and each other, they were able to make their first steps towards recovery by the end of the film.
I highly recommend Belle for any filmgoer out there, anime lover and non-anime lover alike. It has profound messages that will fill you with inspiration while warming your heart and giving you an amazing movie-watching experience.
---
What was your favorite part of Belle? Let us know in the comments below or on Twitter!