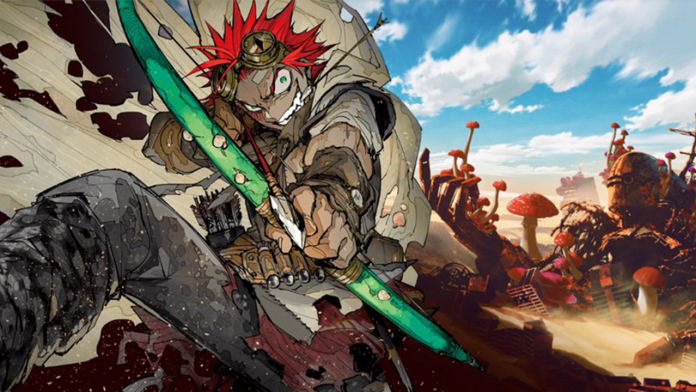 A humble pilgrim at a border checkpoint peruses a poster of notorious criminal Bisco Akaboshi, wanted for wreaking havoc throughout a post-apocalyptic Japan. When a guard interrogates the pilgrim about crossing the border, he is soon revealed to be Bisco himself in disguise, and both he and the guards leap into action. Wild and hilarious action ensues, with Bisco and his father figure Jabi charging through the checkpoint on the back of a giant crab. This explosive introduction to Sabikui Bisco and its unique protagonist immediately hooks you in.
The world is a post-nuclear desert full of mutated mushrooms. It's roamed by Mushroom Keepers, social outcasts who have learned to use the fungi's strange abilities as tools. Nicknamed "The Man-Eating Redcap," Bisco has a particular talent for combat with mushroom projectiles, which gives fight scenes an entertainingly bizarre flavour. Unsettling imagery like, "This silver mushroom was covered in a sticky mucus and multiplied at an incredible rate," abounds. And the book's expressive illustrations by K Akagishi and Mocha complement the descriptive writing perfectly.
Sabikui Bisco centers around Bisco's quest to find a rare mushroom called a Rust Eater that he believes will cure Jabi of a fatal disease known only as "the Rust." He teams up with a passionate young doctor named Milo Nekoyanagi, who's desperate to save his sister and other patients from the same ailment. And the two embark on a desert journey that connects them with a host of other amusing characters. Both fundamentally kind-hearted people, Bisco and Milo stumble into helping others in episodic adventures on their way to the action-packed climax that brings their story to a satisfying conclusion.
Much of the novel focuses on the relationship between Bisco and Milo, who grow increasingly intimate throughout their quest. Milo dedicates himself to taking care of Bisco, calls him his partner, and even tells him he loves him. It seemed like their tale was headed toward a romantic ending. Yet there are also hints that Bisco is more interested in Milo's sister, and the ending doesn't confirm how he feels either way. As this is only volume one in a planned series, it remains to be seen whether their feelings for each other will be explored in greater detail. At the very least, readers looking for explicitly LGBTQ+ relationships won't quite find them here.
If you want a post-apocalyptic adventure with a memorable setting and attention-grabbing action, you'll enjoy Sabikui Bisco. Its mushroom maestro protagonist is nothing if not a fun guy, and future tales of his exploits are sure to be worth a read.
Sabikui Bisco, Vol. 1 is available now on Amazon. There's also an anime adaptation of the series airing this season on Funimation.
---
Title: Sabikui Bisco, Vol. 1
Publisher: Yen Press
Release Date: January 18, 2022
Type: Light Novel
Author: Shinji Cobkubo
Illustrator: K Akagishi
World Concept Art: mocha
Translator: Jake Humphrey