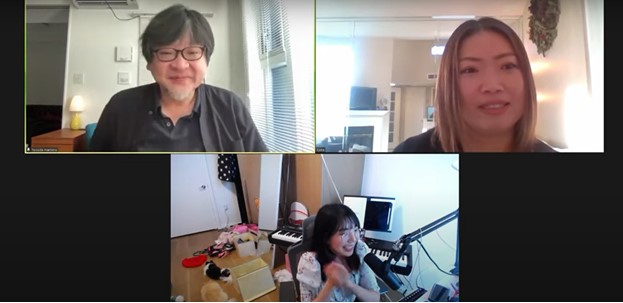 If you watched the newly released anime film Belle by Mamoru Hosoda, or read our recent review, you will love this news! On January 21, 2022, the filmmaker gave a surprise interview with Internet personality and musician LilyPichu on Twitch. The Oscar-nominated animator and director of films such as Wolf Children, Mirai, and The Girl Who Leapt Through Time answered a host of questions in the Q&A, which lasted almost an hour.
Hosoda talked about the research he did for Belle, the themes of the film, and so much more. LilyPichu also gave great questions and comments about the importance and timeliness of Belle, as the digital world and alternate online personas are becoming ever more prevalent. Hosoda mentioned how this is especially true for women, as they protect themselves and their identities online. "What we protect is also changing with the time," the translator said, from Hosoda.
LilyPichu also mentioned the beautiful music of Belle, which was one of the most noteworthy parts of the film. In response to this, Hosoda said that they wanted to go beyond pop music for Belle's digital world, U, and had multiple musicians working on this to create the proper score. He also mentioned, in response to another one of LilyPichu's questions, that they knew from the beginning that there would be an English dub to Belle. This played into how they created the music, which fans can see in the final products of both the English dub and original Japanese version.
These are just a few of the topics they discussed. You can watch the full interview on LilyPichu's YouTube account here. They had a fun conversation, where at one point she tells him she wants him to never stop making movies, and he says he wants her to do another voice for one of his films in the future. She gets really bashful and says "next question"!
Belle was just released for a limited run in North America and received raving reviews and ratings online. The film tells the story of a high school girl who becomes a phenomenon in an online, immersive social media world. The film deals with themes such as loss, trauma, and overcoming one's past.  
---
What was your favorite part of the interview between LilyPichu and Mamoru Hosoda? Let us know in the comments below or on Twitter!