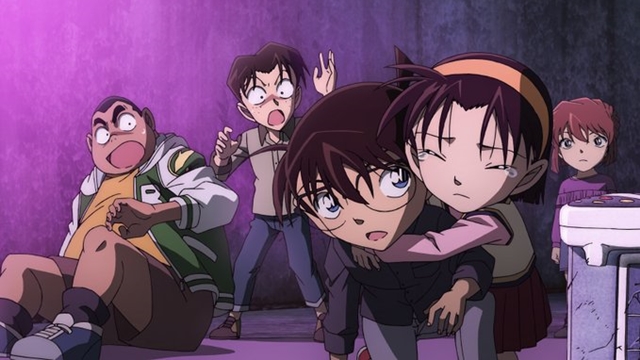 On Saturday, a report has come in from entertainment news site Cinema Today that the anime film Detective Conan: The Bride of Halloween has earned 24% more revenue on its first day than the previous movie in the franchise. It is the 25th anime film in the Detective Conan franchise, and released on Friday.
This is notable because the previous film in the franchise, Detective Conan: Fist of Blue Sapphire, has the record for the highest total earnings in the entire Detective Conan franchise. If projected earnings continue then Detective Conan: The Bride of Halloween will break all previous franchise records.
Fist of Blue Sapphire earned 422 million yen (about $3.77 million USD) on its opening day during the premiere in April 2019. Cinema Today estimates that The Bride of Halloween likely earned around 523 million yen (about $4.14 million USD) on its first day. Fist of Blue Sapphire went on to earn 9.37 billion yen (about $86.2 million USD). The staff of Detective Conan: The Bride of Halloween film aim for the film to be the first in the franchise to earn 10 billion yen.
Susumu Mitsunaka (Haikyu!!) directed the film at the studio TMS Entertainment. Takahiro Ookura who has written for previous Conan films Fist of Blue Sapphire and The Crimson Love Letter wrote the screenplay for this latest outing. Gosho Aoyama is credited for the original design work of the characters. Yuugo Kanno (JoJo's Bizarre Adventure: Stardust Crusaders, Psycho-Pass) composed the music for the newest film. The band BUMP OF CHICKEN performed the film's theme song titled "Chronostasis."
The premise of the film is that a wedding ceremony is held in Shibuya's "Hikarie" skyscraper. The bride, Sato, a detective of the Metropolitan Police Department, is in a wedding dress. While Conan and the other guests are watching, a group of thugs suddenly invade the venue and attack. Detective Takagi puts himself in danger and risks his life to protect Sato. At the same time, the criminal behind the bombing incident three years ago, has escaped prison.
---
Are you planning to watch Detective Conan: The Bride of Halloween? Let us know in the comments down below or on Twitter!