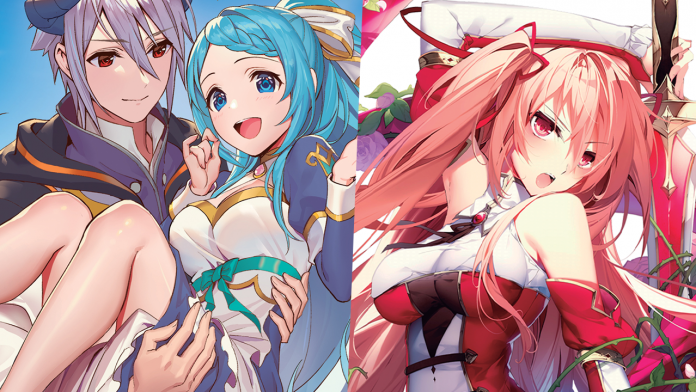 Today during Anime Expo 2022, publishing company J-Novel Club announced they have rescued seven light novels that were previously licensed by the now defunct company Sol Press. Release dates for these titles have not been announced yet.
The rescued light novel titles include the following:
Why Shouldn't a Detestable Demon Lord Fall in Love?!
by Nekomata Nuko with illustrations by teffish
Redefining the META at VRMMO Academy
by Hayaken with illustrations by Hika Akita
Battle Divas
by Kouka Kishine with illustrations by Nekonabeao
Strongest Gamer: Let's Play in Another World
by Shinobu Yuki with Illustrations by Itsuwa Katou
I Surrendered My Sword for a New Life as a Mage
by Shin Kouduki with Illustrations by necömi
Let This Grieving Soul Retire!
by Tsukikage with Illustrations by Rai Hebino
The GM Has Logged Into Another World
by Akatsuki with Illustrations by merontomari/yuu
In August 2021, the Sol Press website went down, with their Twitter account stating it was for maintenance. The website never came back online. Then in October, it was discovered that Sol Press as a business was listed as FTB forfeited in the state of California. This means that the company can no longer operate in California due to failure to meet tax requirements.
Sol Press is still in good standing in its home state of Delaware, however founder and CEO Michael Valdez (Xev) has stopped responding to messages from anyone, including his own staff. Community manager Tsmalls was able to refund Sol Press purchases until February 2022, but now the process requires Valdez to return.
J-Novel Club is a digital and physical publishing company started by translators and fans. By focusing on digital releases and providing a membership service to let people read our books as they are being translated, their goal is to build a growing community of readers so that more releases can be officially licensed and translated.
Since 2016, J-Novel Club has digitally published over 1,000 volumes and physically printed over 230 volumes of different series to enjoy.
---
Are you excited to read these rescued titles? Let us know in the comments or on Twitter!