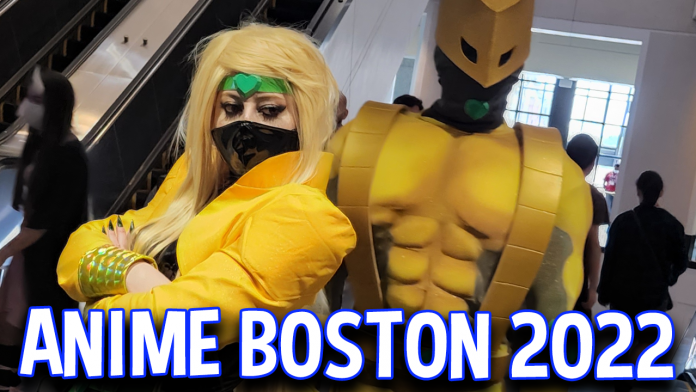 After years of the convention being put on hold, Anime Boston finally returns for 2022. I got to attend the event this year and it was a great time. So let's talk about my experiences during Anime Boston 2022!
I had been to Anime Boston before during by college years because I live in the area, and it has always a blast for me. It was disappointing but understandable that the recent pandemic caused the anime convention to go on hiatus for a few years. But this year they were finally back in business. With COVID vaccine requirements and a strict mask policy in place, Anime Boston seems to have done an excellent job with hosting the event safely.
This was the first year I was invited to the convention through a press pass for Jotaku Network, and it felt nice to have been given that opportunity. I took some footage and audio recordings of the event, mostly for the video above. And also I got to attend a press conference for the voice actor Griffin Burns and asked him a couple questions. There were other guests with press conferences I tried to attend as well, but unfortunately some of them were moved around or had cancellations.
In the time between the last Anime Boston, we had two giant events happen in the anime fandom: the release of Genshin Impact, and the rise of VTubers. So there were a ton of cosplays inspired by those, along with recently popular series like Chainsaw Man, Jujutsu Kaisen, and Demon Slayer. There was also a surprising amount of cosplays based on The Batman, especially of its antagonist the Riddler, because that had just come out.
My favorite thing about Anime Boston has always been its panels. Most of them are either highly educational or incredibly entertaining. There weren't too many that stood out to me this year compared to previous conventions, but hopefully next year will be better now that they're back.
Aztec from Hybrid Thoughts hosted a panel talking about hip hop in anime soundtracks. During which, they talk about their time contributing to Jujutsu Kaisen, Dr. STONE, and Beastars. He was late to the panel, operating on "hip hop time" as he put it, but his industry experiences and answers about how it all works behind the scenes were all interesting.
Meanwhile, a reoccurring group of anime voice actor guests had like three different panels during the event. Max Mittelman, Ray Chase, and Robbie Daymond make up an improv comedy trio going around to perform live-action shows along with regular livestream fun. They call themselves LAVA (Loud, Annoying, and Very Annoying), and as the name suggests they have immense energy to their performances. Their shows are really hilarious, especially if you're an anime fan. So if you get a chance to see them live, please make sure you do.
For the Griffin Burns press conference I didn't ask too many questions myself, mostly because it was my first time doing this kind of thing. But it was still a very insightful interview to get a look at the voice acting industry. And Griffin Burns seems like a chill, fun guy!
I also got the chance to checkout the annual AMV (anime music video) contest. All of them were incredibly well polished and covered a large range of emotional targets. You can also check the submission for those on YouTube, since usually also posted there and put in a playlist somewhere.
When I say VTubers were everywhere this year, I really mean it. So many fan panels were focused on its history or how to get into it yourself. Lots of cosplays and fanart were all centered around the most popular VTuber icons. And there were even Hololive VTuber guests at the convention going one-on-one fan meetups and giant auditorium panels. I was able to attend one of those panels where VTubers Kronii and Mumei hosted a Hololive trivia game. Their animated presence was up on a giant screen and they could clearly see and interact with the attendees live. Personally I don't watch Hololive enough to know any of the trivia stuff, but it was still a fun time that was well done.
When we got into the artist alley and dealer's room, my money really disappeared. I usually buy like 30 or 40 random first volumes of manga and light novels and keep them as a big pile next to me at my desk to go through until next year. As for art, I know have a bunch of Chainsaw Man, SPY x FAMILY, and VTuber posters added to the walls of my room now. You can checkout everything I bought here.
Lastly, Anime Boston hosted the premiere of the anime film Poupelle of Chimney Town. It was an 3D CGI story about a living garbage man (made out of literal trash) and a young chimney sweeper in an isolated world. It made me nervous that it was a real cheap Nightmare Before Christmas at first with its opening musical number, but it ended up being much different. The story dealt with themes like coming-of-age, looking towards the future, father and son bonding, and dealing with grief. Don't think it'll be winning any awards, but it's not bad.
That's about everything! Anime Boston 2022 was a fun return to anime conventions for me, and I can't wait to attend next year. If you attended Anime Boston too or plan to go next year, let us know about your experience in the comments below or on Twitter!