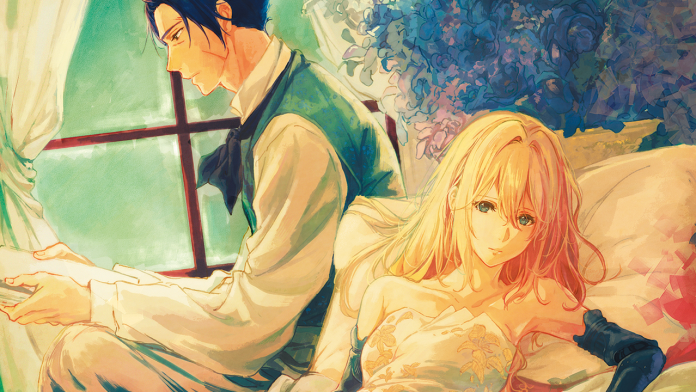 The second Violet Evergarden movie, is still in the works after facing numerous delays. So let's look back on the Kyoto Animation series and get hyped for the movie.
Violet Evergarden swept the anime community away back in 2018, with its beautiful art and riveting story line. Just about every episode managed to somehow contain both drama and whimsy. The series' protagonist moves forward in her journey of discovering herself through finding what "love" really means. Each episode is flawlessly executed and expertly paced. We see Violet inching forward while helping others through her position as an Auto Memories Doll.
The story of Violet Evergarden
For those unfamiliar, Violet Evergarden is a steampunk-style coming-of-age story following Violet, a girl raised as a weapon of war. She was found as a child and was given to a major in the military named Gilbert Bougainvillea. However, Major Gilbert had no intention of treating Violet like an object of war. Although she worked as a skilled military assassin, Gilbert desperately tried to teach her how to be human. Violet tried with all her might to save Gilbert after an attack, but it's futile. He tells her to be to be free and happy, and that he loves her. However, she doesn't know what love even is.
After the war, Gilbert's disappearance, and the loss of her arms, Violet works as an "Auto Memories Doll". These "dolls" write letters for people who want their feelings put more articulately and beautifully for the receiver. At first, she isn't too great at it, having no idea what love is and has absolutely no social skills. However, as time goes on, she learns what it feels like to love someone along with sympathy, loss, and longing. Slowly, she becomes more human. This is what Gilbert wanted for her all along.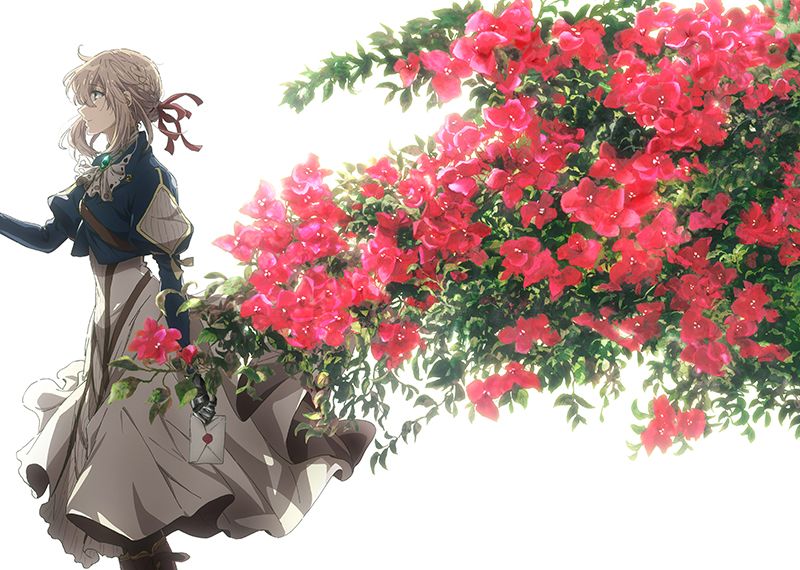 Although the first season of the show ended in 2018, the anime hasn't left our hearts in the slightest. On top of being unforgettable on its own, the show keeps relevant with two movies. One that released in 2019, and one that has yet to be released.
What's up with Violet Evergarden now?
The first film, Violet Evergarden: Eternity and the Auto Memories Doll, is about two sisters. Taylor and Isabella are on their own heartbreaking journeys after being torn apart a few years prior. Isabella attends a formal finishing school for young ladies when Violet comes to help her. She doesn't exactly fit in with the other girls at her school. It's a beautifully tragic tale that brought tears to our eyes, as did most of the show's episodes, but it was also full of joy and love. Even in this movie, Violet gets a front-row seat into learning human emotions through the struggles of others with and for the ones they love. 
**Spoilers ahead (if you haven't finished season one of Violet Evergarden, don't read ahead unless you are okay reading spoilers)**
What we're most excited for follows after the answer to our biggest question: Is Gilbert alive?
I think it's pretty safe to say "Yes," so where do we go from there? Gilbert must have gone to safety, received care, and then hid away for a few years. He is talking to Violet in the movie trailer, so it's safe to assume he's alive and well. He even said he was waiting to come back until after she progressed and found happiness in life. We also know years have past since Violet saw Gilbert, yet she never thought he died. Whether she was in denial or did somehow sense he was alive, she was obviously right all along. So…what now? What will happen in the Violet Evergarden movie?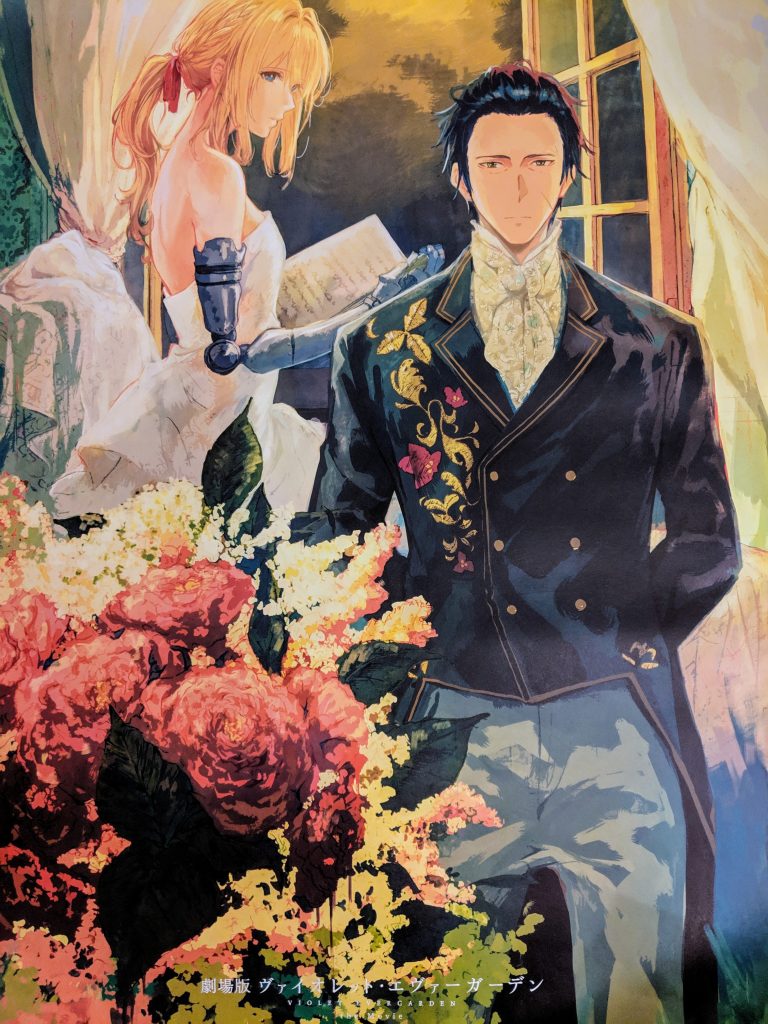 Speculating about the new Violet Evergarden movie
It will be interesting to see how everything plays out. Will they be a romantic item, or will they be more like siblings? It seems that Gilbert loved her as a person (and maybe more like a younger sibling) but not romantically, as she was so young when he was essentially raising her. Will that blossom into love now that she's an adult (this also depends on how old she will be in this movie; it's been a few years and the movie posters allude to romantic, so it appears that she's an adult at this point)? What exactly will happen in this movie?
Will it follow Violet continuing to find herself and then at some point realizing Gilbert is still alive? In the season one finale, Violet wrote a letter to him. She's grown and learned the was it means to love. And she believes he's still alive. It's a letter more for herself than anyone else.
In the last moment of the show, Violet looks into the house of her next client and seems startled before she smiles and introduces herself. While watching this scene, our reactions were "Was this client the Major himself?" Well, the more recent trailer of the movie shows this scene while Violet is talking to Gilbert via narration in her head, so it also seems safe to say that Gilbert is the client that she goes to at the end of season one.
The upcoming Kyoto Animation movie trailer
We are so excited to watch the story progress and see how everything turns out. The second movie for Violet Evergarden is coming out sometime within the next year or so. Kyoto Animation originally wanted the film to release in January 2020, but due to the tragic arson attack on their studio last year, they had to push it to April. Then, sadly, they had to push it back again, this time to an unknown date that will likely take place sometime later this year or early next year, due to the COVID-19 pandemic. Hopefully, the movie will be out soon and everything will go smoothly for the production studio. For now, we can look back on what we loved and look forward to what is yet to come.
Let us know if you're excited for the Violet Evergarden movie in the comments or on Twitter!