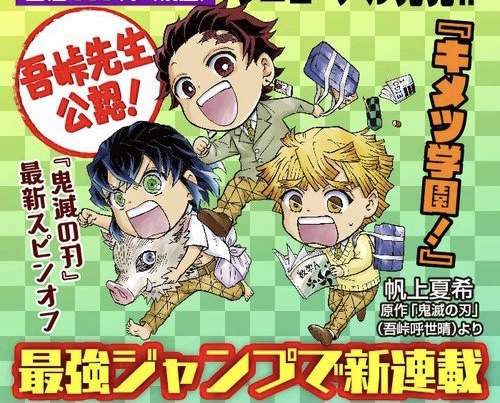 It was announced in the latest issue of Shueisha's Weekly Shonen Jump magazine that the immensely popular Demon Slayer anime will be getting a new spin-off manga series. The 31st issue of the year announced on Monday that the Kimetsu Gakuen! anime shorts spin-offs of Koyoharu Gotouge's Demon Slayer Kimestsu no Yaiba, will be getting a manga print spin-off series.
The new spin-off manga will share the same title, Kimetsu Gakuen! In addition to this, what we know so far about the new spin-off series is that it will debut in the first September issue of Shueisha's Saikyo Jump magazine, to be released on August 4th. Natsuki Hokami, best known for work on the Hell Warden Higuma manga, will be illustrating the manga in a chibi art style.
There are currently four Kimetsu Gakuen! shorts out there. They were all part of a simultaneous release on Valentine's Day of this year. The shorts were all titled Velentine-hen and featured the characters from the hit series in a high school setting.
Additionally, the chibi-fied characters of Tanjiro, Nezuko, and Giyu Tomioka will appear in the upcoming Demon Slayer: Kimetsu no Yaiba – The Hinokami Chronicles (Kimetsu no Yaiba: Hinokami Keppūtan) video game as playable characters. The characters will all appear faithful to their depictions in the anime shorts.
Demon Slayer has had incredible success across the world, and with the release of the new movie Demon Slayer – Kimetsu no Yaiba – The Movie: Mugen Train, that popularity has only grown. The movie became the highest earning opening weekend for a foreign language film in the United States earlier this year. The film had an explosive premiere up and down the country with fans raring to see the new film. Overall, the film raked in an impressive estimate of $19,542,227 USD. The film was distributed by Funimation in partnership with Aniplex of America in Japanese with English subtitles, as well as with an English dub.
---
Are you looking forward to the new Demon Slayer manga spin-off series? Let us know in the comments below or on Twitter!