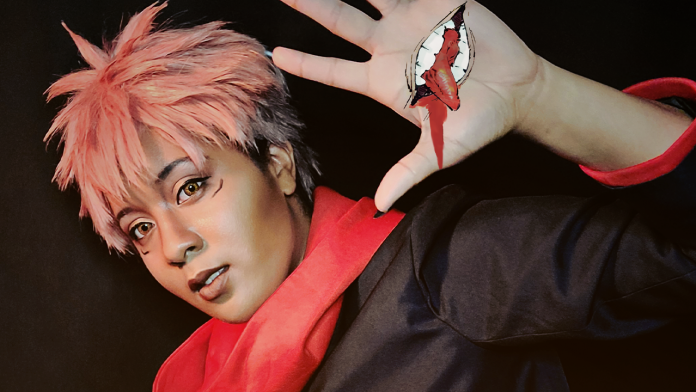 Last year saw the postponement of a massive number of conventions across the world in response to COVID-19. Conventions were turning to online events in lieu of in-person events, and they weren't alone in that, either. Cosplay started getting more online as well during the pandemic.
Online cosplay quickly became a collective place for friends and other cosplayers once conventions were unavailable. Social media helped cosplayers share things like new cosplay projects, at-home photoshoots, and Tik Tok skits.
Since conventions returned this summer, I wanted to take a look back at the last 18 months of cosplay. Particularly, how cosplayers shared their love for the hobby during the pandemic. I spoke with cosplayers V (fvrrons) and Eria Brekker about their online experiences and how the past year affected them.
Interviews with Cosplayers V and Eria Brekker
What social platforms did you use to share your cosplay during the pandemic last year? How did you use them?
V: I primarily use Twitter, Instagram, and Discord to share my cosplay work, as I'm most familiar with those platforms. I've recently picked up Original Glaze, a dedicated app focused on sharing and engaging with cosplay content. I have been cosplaying since around 2009, but it was always casual. I didn't know anything about crafting, wig styling, advanced makeup, or sewing. It wasn't until 2020 when I started picking up cosplay as a hobbyist and developing all of these skills. I've had many friends encourage me and compliment my progress along the way, which was a big motivator for me.
I learned quickly from social media tutorials and friends I met through these sites, and went from not knowing how to use eye shadow or style a wig to creating looks for Gentiana and spiking a wig for Adam in less than a year. All of the aforementioned platforms have helped me become the cosplayer I am today!
I love using Twitter to interact with and discover other cosplayers. I have a main account for general fandom content and my finished cosplays, and a separate account to share anything related to cosplay. This includes my finished work, works in progress, cosplay events, news, and other cosplayers' work!
Also I absolutely ADORE Discord! I've been on Discord since its beginning year of 2015. I have a cosplay-focused server where I mingle with friends and mutuals over cosplay and any fandom-related content. We share finished work, works in progress, tutorials, advice/tips, cosplay opportunities, event information, and anything in between! It's a wonderful space and it has definitely motivated and inspired me to advance my skills. Being able to have voice and video calls with friends while we work on projects (or having fun game and movie night sessions while dressed up in cosplay) helped me stay on track and enjoy what I was doing. It has played a huge part in my cosplay journey!
Eria: I usually use Twitter since it's the one I'm most familiar with. I regularly post cosplay-related content and I retweet others too. I also use Instagram, but it's getting a lot worse, so I'm trying to move to other platforms as well.
Do you think being able to use social platforms helped you keep up with cosplaying in any way? Was there anything unique to using social media at all that you think stands out as a cosplayer?
V: Yes, for sure! When the pandemic was first picking up around March-April 2020 in the USA, I realized I wanted a new hobby to keep busy. Being at home for work and not feeling comfortable adventuring out or attending conventions took a toll on me mentally and physically. That's when I slowly got more into cosplaying. It wouldn't have been possible without social networks like Twitter. A lot of conventions were closed or cancelled. People weren't having in-person meetups. There wasn't much that I felt comfortable doing besides interacting in online spaces.
Social media is unique in that you can easily find people you'd otherwise never (or most likely never) meet. I've met and made good friends with several cosplayers around the globe in the past year alone. I wouldn't have been able to do that without the help of social media. It's a powerful tool, especially for cosplay, considering the community is global and so diverse!
I've learned how the community differs in other parts of the world and have been able to connect with cosplayers in varying areas. It's fulfilling, and social media has truly made it a breeze to network and befriend like-minded cosplayers.
Eria: More or less. Social platforms helped me get distracted and not focus only on the pandemic itself. I enjoyed seeing my mutuals and friends working on their cosplays and planning self-shoots at home, so that's how I kept up with cosplaying.
While the pandemic definitely saw cons put on pause, in what ways did you continue to cosplay?
V: I cosplayed at home in my room. Definitely helped me learn a lot of new techniques when it came to phone photography and editing. I did go outside a few times to take photos with friends in parks or Airbnbs. I held and participated in online cosplay activities to chat with other cool cosplayers.
Eria: I basically stopped since I lost motivation, but I tried to learn new techniques and practice skills when I felt like doing it. I watched a lot of tutorials, and sometimes I did some cos-tests (but nothing really serious). Long story short: I tried to take it easy and relax.
Did you notice any difference online compared to when you'd normally be able to attend cons? Like how you approached cosplaying, working on your pieces, taking photos, and just generally having fun with it?
V: Most of my cosplay has been online within the past year. But the cosplay community is interesting in the fact that the community already had a heavy usage both online and in-person. As the years went on, cosplay was seen on forums, social media sites, articles, etc, in addition to real-life events like conventions and meet-ups. I do think online usage for cosplay skyrocketed globally during the pandemic. Where else could cosplayers safely go to express themselves and have their work be seen and shared? Online.
Since I started cosplaying more during a time where it was VERY online focused, my mindset might be a little different than someone who has been cosplaying for 10+ years. For some cosplayers, taking waist-up photos to post online worked for them, considering the viewers wouldn't see their lower half in the photos.
Which honestly, is great. You can still dress up but not worry about too many factors since it's online. You could look nice in your top half and wear some pajama bottoms and be cozy in the lower half.
I took the mindset of "finished, not perfect" and have been running with it. When I post something online, I'll usually think, "Well, does it look OK and presentable to me in a photo that I can share online? Ok, cool, I'll share it. There may be mistakes, but that's all right." If it's something for a con, I will spend more time on a project since others can actually perceive me!
I work with what I have and make the best of it. I'll continue to go at my own pace and make sure I'm enjoying what I'm doing, creating pieces in the way I envision them. Whether it's in-person or online, I will prioritize having fun while in cosplay!
Eria: Yeah. I think making everything online had its pros and cons. As a pro, I'd say that everyone had to find a new way to communicate with others and we all had the chance to practice and learn new skills, like self-portraits and even some social media management.
However, I think one of the biggest cons was that everything seemed to be extremely "ephemeral". Many cosplayers started to focus only on numbers in social media, and sometimes it seemed like every content had an "expiration date". I think many creators felt very pressured and started to create content based on the idea of being "trendy" and "relevant" instead of enjoying cosplay itself.
Out of any cosplay you worked on during the pandemic, do you have some that stand out as favorites? Whether that be because of the character, the costume itself, or any other reason!
V: I have many favorites, but currently Unknown (Tekken) and Itadori Yuuji (Jujutsu Kaisen) are the ones I like the most. Gentiana (Final Fantasy XV) has a special place in my heart, as she was the first eye-makeup look I was extremely proud of. Touji (Jujutsu Kaisen) was something that made me laugh and practice more masculine makeup. I have a feeling a few of my upcoming cosplays, Adam's Sk8 outfit, Choso (Jujutsu Kaisen), and Oberon Vortigern (Fate/Grand Order) will be favorites, too, especially Oberon. I think he might be one of my all-time favorites once I get it going!
Eria: Yes! Hilda from Fire Emblem Three Houses. I didn't make the outfit myself (I commissioned it to a friend), but I worked on the details and the wig, and that cosplay definitely brought me the will of cosplaying again. I really had fun.
Outside of cosplaying yourself, how else did you stay connected to cosplay and the community?
V: I organized my cosplay Discord, did a few community projects that involved others cosplaying and using cosplays I'd already done, watched streams or panels, and generally mingled with other cosplayers! I'm even thinking about starting a fun cosplay-themed zine/magazine for BIPOC since there was an overwhelming interest in that type of thing!
Eria: I joined some discord groups and tried to interact more with others by sharing their work and leaving comments in every social media I use (mainly Twitter and Instagram). I even made some new friends, and that definitely helped keep me motivated/in touch with other cosplayers.
Interview responses lightly edited or condensed.
---
I'd like to give a big thank you to both V and Eria for talking with me about their cosplay experiences over the past year during the pandemic.
You can check out more of V's cosplay on their Twitter and Instagram and Eria's cosplay on her Twitter and Instagram.
---
Are you a cosplayer who moved online more during the pandemic? How have you cosplayed during the last year? Let us know in the comments below or on Twitter!