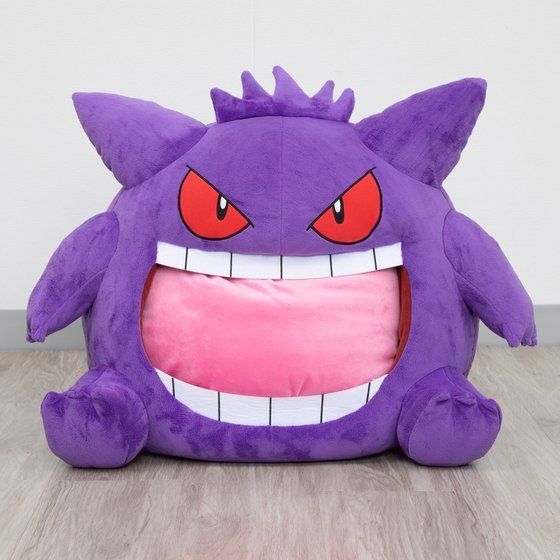 If you've followed us over the last couple months, you'll know all about the Metapod chair that's perfect for pandemic isolation. Well, now a new home accessory has been released that fits perfectly with the bug-type Pokémon chair. That accessory is Premium Bandai's new Gengar pillow! As you can see in the pictures below, this pillow shows the ghost-type Pokémon with an open mouth, ready to devour its sleepy masters. What makes the creepy accessory even better is that its tongue rolls out like a red carpet, ready for you to get the ultimate sleeping experience. You can use the tongue as a mat, blanket, or entryway to the claustrophobia-inducing mouth pillow.
2020 was rough, so we needed the social distance-approved Metapod chair to say cozy and safe against the stressful situations brewing all around us. Now, since 2021 hasn't started out so hot, we have another Pokémon accessory to hide within, albeit only our heads will fit inside. From the pictures below, it's hard to tell how practical the pillow is or if it's anything beyond something fun and cool to add to any Pokémon lover's collection. Whatever the case may be, these 33,000 Yen (about $315 USD) pillows are perfect for the Pokémon collectors out there. And if you don't mind tight fits or your head being engulfed in utter darkness, this product is for you! 
With these two fun Pokémon pieces being released by Bandai over the last couple months, there is every possibility that more ridiculously amazing accessories will surface this year. One can only begin to imagine what other products may be released. We can only hope that we will get something like a Flaafy sherpa robe or a Lapras flotation device for the summer. We will just have to wait and see what the future holds and hope we will get something good.
If you want a chance to get a Gengar pillow of your very own, you'll have to keep an eye out for any future restocks, as they sold out within two hours of pre-orders becoming available. Due to the popularity of these products, there will likely be another round or two of releases. Check back in with us in the coming months to see if any more become available throughout the year.  
If you were one of the lucky ones to capture one of these poké-pillows before their pre-orders sold out, you can expect to get your Gengar pillow sometime this summer. The product is set to release in June this year.
---
Want to stay up to date on the latest in anime and the industry? Follow us on Twitter or shout out to us on Discord!