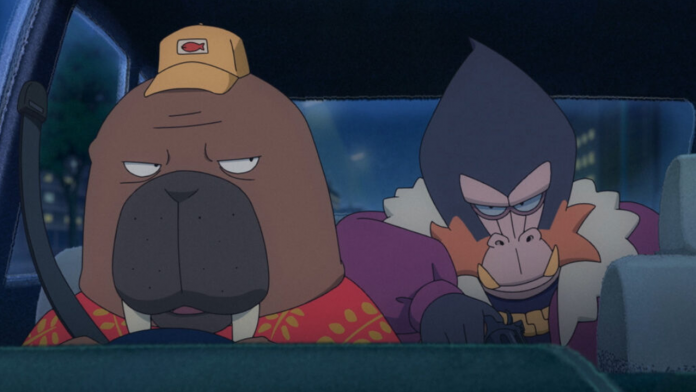 Under the guise of "just another furry anime", ODDTAXI didn't scream for attention but waited calmly in the rafters of the spring 2021 anime season.
First revealed during the Crunchyroll Anime Awards, the trailer gave no real indication of the story. This turned out to be a genius way to keep the twisting plot under wraps. Being a sucker for colorful aesthetics and character design, I jumped into the series not knowing what to expect.
To trust a taxi driver
ODDTAXI follows a 41-year-old private taxi driver, Odokawa, who spends his evenings picking up eccentric passengers throughout the Tokyo metropolitan area. Everything seems fairly mundane at first. Odokawa is running business as usual, with all of his anthropomorphic clients just trying to make it to their next stop literally and figuratively. A college-aged hippo is desperate to go viral, an alpaca is paying off her nursing school debt, two comedians are looking for their next bit, and an idol group is working their tails off to climb the ladder to fame. The conversations aren't particularly special at first, and in Odokawa's eyes, neither are the passengers. But things shift as news breaks reporting a missing high school girl, and footage shows she last got into a taxi.
The show quickly turns to focus on the missing girl. More and more, Odokawa seems like a suspect. Other than his taxi being traced back to the girl's last whereabouts, it's rumored that he's been talking to someone at home even though he lives alone, saying "so…are you happy? You can run away at any time." We end episode one feeling like we already solved the mystery, but what comes after is another piece to the complicated puzzle laid out in front of us.
More than meets the eyes
What makes ODDTAXI so addicting is the genius narrative, plot, and character development. This is a case of what you see is not what you get. With each episode, the story gets more and more unpredictable. Beneath the casual conversations and quirky passengers is a more sinister plot at play. We begin to see secrets become undone and how guilt, shame, and obsession lead us to do questionable things. Soon everyone's path will cross with no option of going back, setting off a domino effect. At the center of it all is Odokawa and the mystery of a missing high school girl. It's not long before both a couple of corrupt police and yakuza get involved, complicating things even more.
The driving force of the show is the dialogue between each character. No detail or line is wasted, and it all makes sense the farther into the season you get. If you have a keen eye and good intuition you may start to piece the mystery together, but blink and you'll likely miss a small detail that later becomes important. It should be noted that the craftsmanship of a story this beautifully complicated is the work of a very talented team. Even more notable is that both the director, Baku Kinoshita, and writer, Kazuya Konomoto, share ODDTAXI as their first anime credit.
ODDTAXI takes you on a wild ride
ODDTAXI is likened to Quentin Tarantino films and sets itself apart from other anime series by adopting neo-noir elements. With its refreshing and purposeful plot coupled with witty deadpan comedy, crafty use of flashbacks, and juxtaposition of the art style and music, ODDTAXI is in its own league. Aside from the writing and art, the pacing and voice acting feels natural and absent of typical anime quirks. This allows viewers to focus on the personalities and connections of each character.
While it feels deserving of more attention, ODDTAXI seems to be doing just fine. With a manga adaptation, audio drama and music videos, and a BluRay project, I expect we'll see more from the series in due time. Although it's only 13 episodes with a major cliffhanger, it's one of the times I'm satisfied with just one season.
To truly understand the genius of ODDTAXI, you need to experience it for yourself. If you decide to give it a whirl, buckle up because you're going for a ride!
ODDTAXI is available to stream now on Crunchyroll.
---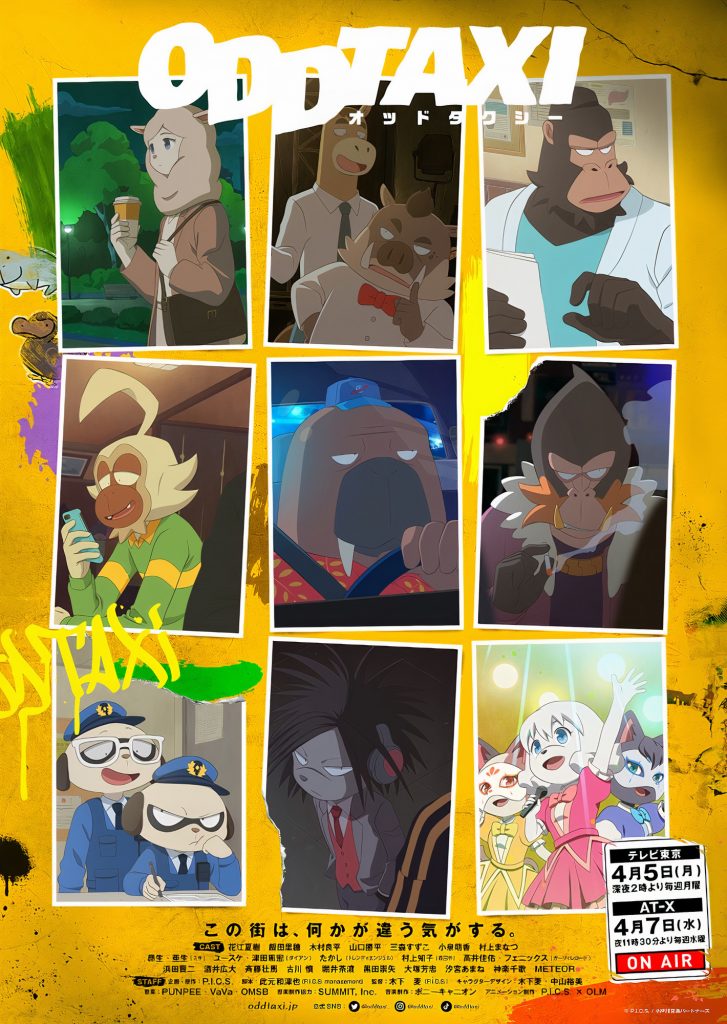 Title: ODDTAXI
Studio: OLM, P.I.C.S.
Publisher: Pony Canyon
Director: Baku Kinoshita
Writer: Kazuya Konomoto
Character Design: Kazuya Konomoto & Hiromi Nakayama
Music: PUNPEE, VaVa, OMSB
Rating: PG-13