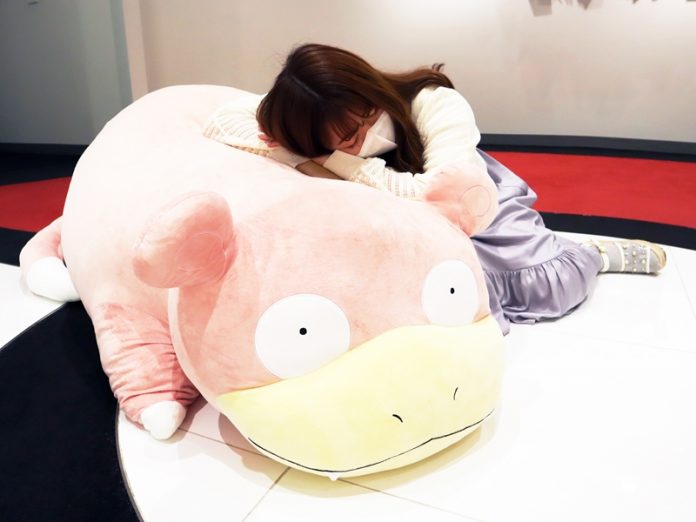 Have you ever wanted a full, true-to-scale Pokémon before? Who hasn't? Well, now Pokémon fans in Japan can order their own 17-pound Slowpoke plush, courtesy of the official pokemon.jp website.
The site announced the news with the information as follows (translated by Google and slightly abridged):
Today, I would like to introduce a must-see "plush toy life-size Yadon" for Slowpoke fans ~ ♪
Plush toy Life-size Slowpoke 49,500 yen (tax included)
This is about the size! 
It's a form that makes you want to hug me ♥  I asked a girl with a height of 150 cm to be a model, but if you include the tail, Yadon is bigger! !! !! 
Slowpoke is surprisingly big ~.
So, now Pokémon fans can have their very own Slowpoke that is 65 cm long and 75 cm wide. The Pokémon Center website says that it is 150 cm from "the tip of the nose to the curve (top) of the tail." It's perfect to lie down on, fall asleep on, or just cuddle against whenever you feel like it. 
This isn't the first time a true-to-size Pokémon has been created and released to the world before. Back in 2014, a life-sized Pikachu was released, and it weighed over 13 pounds. It was even the adorably chubby first-gen version (step aside, skinnier Pikachu!).
However, while the chubby Pikachu was only about $168 USD, this life-sized slowpoke plush is a whopping $450 USD. You read that right. It will be interesting to see how many of these cute, giant pink plushies are sold considering the hefty price. However, collectors have definitely paid far more for limited-edition merch, so the Pokémon will likely sell out in no time. It's definitely too cute for many Pokémon collectors to pass up.
If you are one of the lucky collectors who is able to purchase this adorable collector's item, head on over to the Pokémon Center website here and place your order before the item runs out of stock. Customers can order the Slowpoke plush from now until the end of the month, June 30th, at 11:59 Japan Standard Time.
While the Slowpokes are made-to-order, the Pokémon Center website states that only a certain number of orders will be taken. So, although the item is made-to-order, fans who want to ensure they receive the product must purchase the product as soon as possible. The site also states that they may close the order period earlier in the month if they reach their order cap.
It is unclear whether or not the sellers will create any more Slowpokes after this first run sells out, but it isn't likely that there will be, as the Pikachu plush never had a second run. 
The Slowpoke plushies will ship out this November to customers in Japan. It hasn't yet been announced if international consumers will be able to purchase the product, but hopefully it will be an item that anyone can order all around the world. 
The last few years have been filled with fun official Pokémon merch, such as the Gengar pillow and Metapod sleeping bag/onesie chair. It will be exciting to see what merch is released next.
---
Are you going to order this giant, cuddly Pokémon plush? Let us know in the comments below or on Twitter!